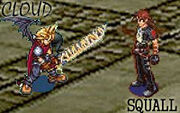 Thursday, September 23rd, 2004
Poll 1770
Round
Midgar Division Semi Final
Match #
53
Match Date
Thursday, September 23rd, 2004
Vote difference
46,810
Oracle
Expectations
Cloud Strife - 71.63%
53 for - 0 against
GameFAQs
Prediction
Cloud Strife - 90.98%
(30,224 brackets)
Cloud vs Squall, FF7 vs FF8, a massive amount of SFF, blah blah blah. After three matches that held everyone's interest, we were back to matches in which the interest was in everything but the matches themselves. This was one such match.
Everyone (except for Leonhart4) knew that Cloud was going to win this match with ease, and the only interesting things to happen all day were seeing the match picture in all its glory and seeing how well Cloud would stack up against Link. And after this match, Cloud seemed like the clear underdog. His prediction percentage was lower than Link's, his vote total was lower, and the total votes in his poll were lower. Cloud was clearly on the defensive after this horrible display, and he didn't exactly have a lot of time to get it together.
Oh yeah, Squall jumped out to the early lead. But then again, doesn't everyone do that against Cloud? Aside from all of that, this match was horrible to watch. What was even more sad was the fact that no match looked like it would be any more interesting than this one, with the exception of maybe the final. Maybe.
Match Trends
Edit
External Links
Edit
Ad blocker interference detected!
Wikia is a free-to-use site that makes money from advertising. We have a modified experience for viewers using ad blockers

Wikia is not accessible if you've made further modifications. Remove the custom ad blocker rule(s) and the page will load as expected.