Round One

Tuesday, October 10th, 2006
Poll 2527
Division
Time Division
Match #
29
Match Date
Tuesday, October 10th, 2006
Vote difference
54,784
Oracle
Expectations
Crono - 75.45%
128 for - 0 against
GameFAQs
Prediction
Crono - 83.15%
(35,460 brackets)
The final division of this contest to get its first round out of the way was Crono's Time Division. Pretty bad division name, but it doesn't take away from Crono finally getting the 1 seed that had eluded him to this point.
His debut as a 1 wasn't too bad, either. Captain Falcon is one of the best examples we have of the SSBM factor. It's a safe bet that of Falcon's 29306 votes, almost all of them were from people who would vote anything Smash over anything else. Honestly, have more than 20 people played an F-Zero title? The end result was predictable: Crono blowout.
With one small footnote. Crono threatened 80% at one point, and Falcon brought him down to 74. Crono being ass during the day was bound to bite him eventually.
Match Trends
Edit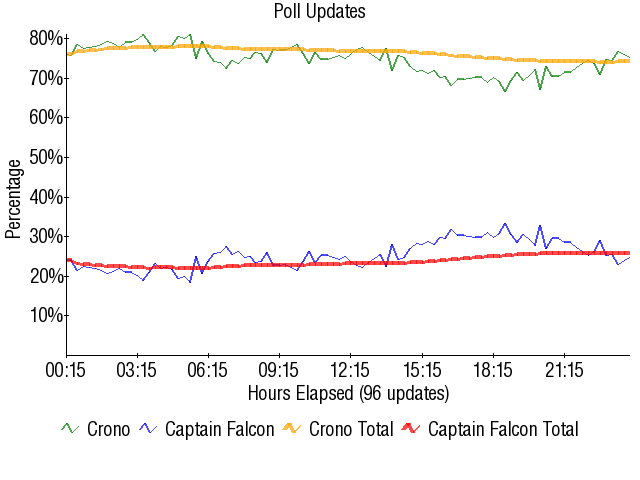 External Links
Edit
Ad blocker interference detected!
Wikia is a free-to-use site that makes money from advertising. We have a modified experience for viewers using ad blockers

Wikia is not accessible if you've made further modifications. Remove the custom ad blocker rule(s) and the page will load as expected.