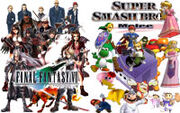 Saturday, June 5th, 2004
Poll 1662
Round
Tournament Semi Final
Match #
62
Match Date
Saturday, June 5th, 2004
Vote difference
21,610
Oracle
Expectations
Final Fantasy VII - 58.32%
52 for - 1 against
GameFAQs
Prediction
Final Fantasy VII - 47.40%
(19,406 brackets)
Let's be honest here. SSBM had no chance in hell of winning this match, and this thing served as nothing more than a speed bump en route to Final Fantasy 7 being the winner of this contest. The best SSBM could really offer was to put up a respectable showing, which I don't feel that it did. Getting to the Final Four and failing to post 40% in a match, even against the eventual champion, is not impressive by any means. It also serves to prove that your future looks bleak. Just ask Mario, who has no chance in hell of ever winning one of these contests. He never did truly recover after his horrid showing against Link in 2002, and there is no way in hell that Mario only gets 40% of the vote against Sephiroth that year as well.
If another of these contests is ever run, I won't have much faith in SSBM. I still love the game with an absolute fury and will pick it to win most matches, but it has no chance in hell of beating an elite game in one of these things. And with its loss, we had a Square/Square final. Fun.
Match Trends
Edit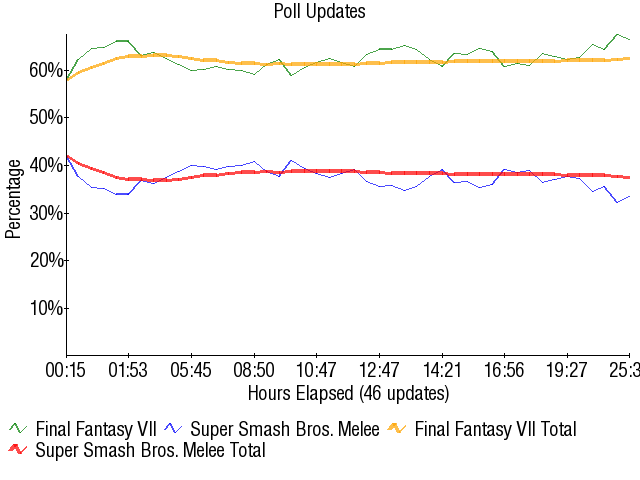 External Links
Edit
Ad blocker interference detected!
Wikia is a free-to-use site that makes money from advertising. We have a modified experience for viewers using ad blockers

Wikia is not accessible if you've made further modifications. Remove the custom ad blocker rule(s) and the page will load as expected.