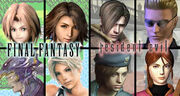 Saturday, July 29th, 2006
Poll 2452
Division
Ultima Division Final
Match #
28
Match Date
Saturday, July 29th, 2006
Vote difference
70,950
Oracle
Expectations
Final Fantasy - 77.21%
124 for - 0 against
GameFAQs
Prediction
Final Fantasy - 87.42%
(40,386 brackets)
Resident Evil 4 could only take the RE franchise so far, it seemed. After a record-setting killing of Shadow Hearts and a win over fellow Capcom series Street Fighter, the only thing really left for RE was to job to Final Fantasy in the final match that would give off the illusion that FF was championship material.
RE did this quite well. After of course taking the board vote (which everything seems to do against FF, for some reason), RE began its expected decline. From there FF winning was a formality, but the one thing left of note would be to see whether or not Resident Evil would do better on FF than Mega Man, which would effectively put RE at #1 in terms of Capcom series.
Yeah, that lasted all of one hour. RE fell below 25.81% after one hour, and never saw the percentage again in the match. FF's latest blowout meant that the Final Four everyone saw coming was intact: four 1 > 2 matches, which I think had never happened before this contest.
Oddly enough, the Final Four would wind up being far less predictable than everyone had originally thought.
Match Trends
Edit
External Links
Edit
Ad blocker interference detected!
Wikia is a free-to-use site that makes money from advertising. We have a modified experience for viewers using ad blockers

Wikia is not accessible if you've made further modifications. Remove the custom ad blocker rule(s) and the page will load as expected.