Tuesday, September 28th, 2004
Poll 1775
Round
20XX Division Final
Match #
58
Match Date
Tuesday, September 28th, 2004
Vote difference
12,599
Oracle
Expectations
Mega Man - 56.83%
47 for - 2 against
GameFAQs
Prediction
Mega Man - 31.34%
(10,411 brackets)
Does this match even need an analysis? We had the exact same match last year. From http://www.gamefaqs.com/poll/index.html?poll=1364:
Solid Snake 46.5% 55322
Mega Man 53.5% 63639
TOTAL VOTES 118961
In yet another match that proved that this year's 1 seeds had an easier road than ever, Mega Man took down Solid Snake in a rematch that never should have happened in the first place, simply because everyone knows that The Twin Snakes and its 200,000 copies sold isn't going to allow Snake to make enough of an improvement to take down the likes of Mega Man. Mega Man did nearly 4% this year against Snake than last year, which could mean a Mega Man improvement, a Snake drop, or a little of both. Plain and simple. Another day, another boring match to sit through. The only thing exciting about this was Snake's minor comeback attempt early in the poll in which he shaved all of 20 votes off of Mega Man's lead. Aside from that, it was another of those matches that was far too easy to call from the start.
Well, most people knew who was going to win this match. Stealth Snake Zero decided to challenge common sense, and everyone knows what happened to him. He got his ass pwned by Ulti, and Snake capped off one of the single biggest bombs in this contest in the process.
Oh and before I forget to ask, is anyone ever going to learn not to underestimate Mega Man in these contests? For someone of his status, his prediction percentages have been downright horrible for three contests in a row now.
Match Trends
Edit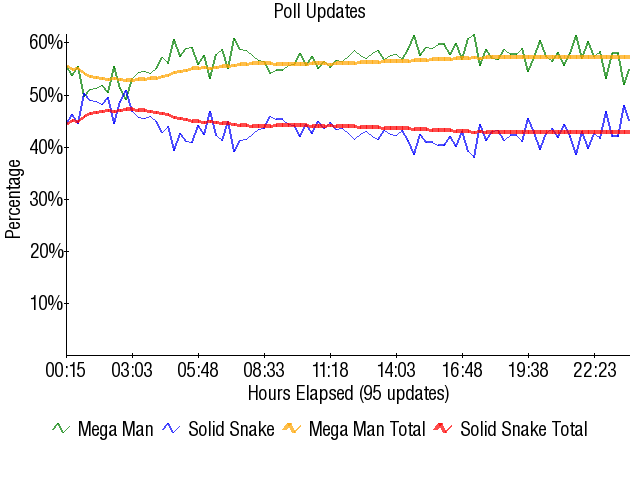 External Links
Edit
Ad blocker interference detected!
Wikia is a free-to-use site that makes money from advertising. We have a modified experience for viewers using ad blockers

Wikia is not accessible if you've made further modifications. Remove the custom ad blocker rule(s) and the page will load as expected.