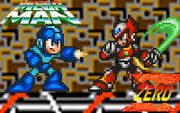 Tuesday, September 21st, 2004
Poll 1768
Round
20XX Division Semi Final
Match #
51
Match Date
Tuesday, September 21st, 2004
Vote difference
10,049
Oracle
Expectations
Mega Man - 69.33%
53 for - 0 against
GameFAQs
Prediction
Mega Man - 52.73%
(17,517 brackets)
And thus, we had the match that defined the 20XX division. Zero and Mega Man, two characters from various Mega Man games, got it on in their cute little rigged match to see who the ultimate robot was. The problem, of course, is that we all knew that Mega Man would win the match. No analysis necessary in that regard.
The issue here comes from Mega Man completely dropping the ball during the match. In most SFF matches, the winner usually winds up killing the opposition. Not so in this case. Not only did Mega Man fail to kill Zero, but Zero had more update victories against Mega Man than Mario had against Crono. To put it simply, this match played out as if there was no SFF at all, which seemed virtually impossible before it began. But as the match progressed and the pattern of Zero being able to avoid SFF altogether became clear, two things could be derived from the results. One, there was no way in hell that Mega Man was going to come close to touching Link. Two, something has to exist in order to give Zero such power against one of his own.
Personally, I think that Mega Man fans are smarter than the average voter. Unlike the nonsense that CJayC spews forth about the various forms of Mega Man being the same character, veterans of the series know better. Mega Man and Mega Man X are two completely different characters from two completely different series, and I think that this match helps show that even though the two series are entitled Mega Man, they have two somewhat distinct fanbases between them. In essence, I feel that this match was actually Mega Man vs Mega Man X. It isn't a stretch to consider. Furthermore, Zero stars in his own little series for the Game Boy entitled Mega Man Zero. I've never played it, but from what I hear, it's both fun and difficult. It may not be much, but it could be enough to allow Zero to avoid SFF against someone not even in the Mega Man X series. X might be in the series, but not Mega Man himself.
And if none of that sounds valid, then this match would be the one and only example we have ever had of Reverse SFF. Maybe it is possible, though I doubt that it will ever allow underdogs in such matches to actually win them. Despite Zero doing far better than expected, he still lost by 10000 votes.
Match Trends
Edit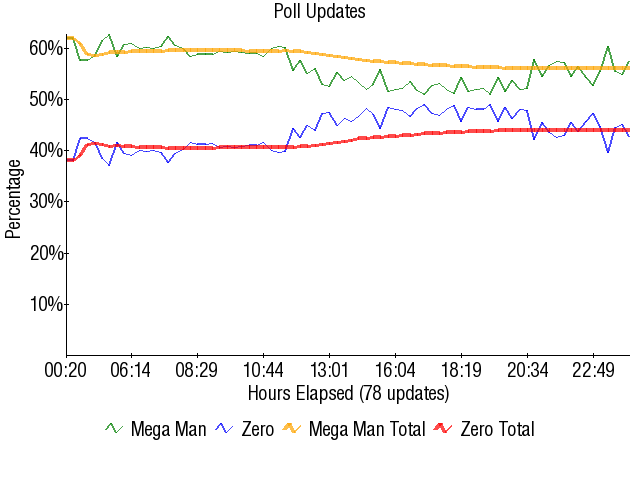 External Links
Edit
Ad blocker interference detected!
Wikia is a free-to-use site that makes money from advertising. We have a modified experience for viewers using ad blockers

Wikia is not accessible if you've made further modifications. Remove the custom ad blocker rule(s) and the page will load as expected.