(1)Metal Gear Solid 3: Snake Eater vs (2)Shadow of the Colossus 2010
Talk

1
4,098pages on
this wiki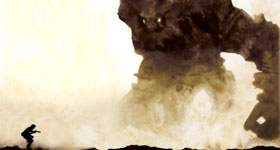 Round Four




Saturday, December 18, 2010
Poll 4187
Division
West Division Final
Match #
119
Match Date
Saturday, December 18, 2010
Vote difference
479
Oracle
Expectations
Metal Gear Solid 3: Snake Eater - 50.52%
47 for - 35 against
GameFAQs
Prediction
Metal Gear Solid 3: Snake Eater - 13.13%

Battle Contest
Predictions

Banked: 183
Metal Gear Solid 3: Snake Eater: 4636
Shadow of the Colossus: 2606
Other than Sandbag ZERO, that's the picture of the contest. It's perfect. It's good symbolism to show how Big Boss succeeded where Solid Snake failed, proving once again how Big Boss > Solid Snake.
This was perhaps our third match this round decided by when the match took place, because it's hard to imagine Shadow of the Colossus not finishing off the Metal Gear Solid trifecta were this a day match. Metal Gear Solid is an entirely different beast at night, and it showed. The final margin may have only been 479, but the match wasn't really that close.
Shadow of the Colossus made a decent early push, but MGS3 quickly recovered. Things stayed even for only a little while once MGS3 made the match even, and from there MGS3 made a good night vote push to take the match. SotC tried keeping up with various stalls here and there, but the overall trend clearly favored MGS3 from the start. By the time the morning vote hit, MGS was too far ahead and too many people were asleep to make any difference in who won.
Even though SotC lost here, it was still one of the two of three most memorable things about this contest. I fear it might have been a flash in the pan, too, because it's very reasonable the game got a one-time contest title boost. Then again the HD rerelease will be in people's minds before the next contest, so that could boost it. SotC needs the HD remix treatment more than any game not named Final Fantasy 7.
Match Trends
Edit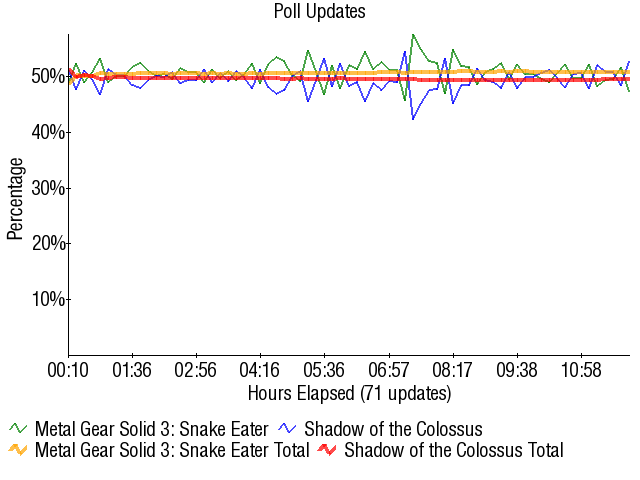 External Links
Edit
• Previous Match       • Next Match