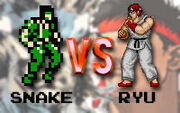 Tuesday, August 26th, 2003
Poll 1359
Division
West Division Semi Final
Match #
55
Match Date
Tuesday, August 26th, 2003
Vote difference
15,595
Oracle
Expectations
Solid Snake - 69.98%
48 for - 0 against
GameFAQs
Prediction
Solid Snake - 65.68%
(26,966 brackets)
There was some discussion before this match that Ryu had a real chance of pulling off the upset. Take a wild guess as to why.
It was the sprite round, and Solid Snake looked horrendous in the match pic. Not that Ryu looked much better, but at least people could pick out who Ryu was. Snake would have to rely on his name alone to win the match, though reports of his early demise were vastly premature.
When the match began, Snake was comfortably in the lead and simply never looked back. Ryu never came close, and those who argued that Snake's sprite would hurt him ate their words fairly quickly -- for this match, at least. Future contests would prove that Snake sprite match pics yield some very bad results.
For the second contest in a row, Ryu went down in fairly routine fashion. He broke 40% on a strong character in a match that most expected him to lose. Can't say much more than that, though this didn't exactly bode well for Snake come the next round. He was the underdog against Mega Man as is, and it's tough to imagine Snake beating Capcom's ultimate mascot when he can't even break 60% on one of Capcom's lesser characters. It's not that Snake didn't have a chance, but it wasn't a good one.
External Links
Edit
Ad blocker interference detected!
Wikia is a free-to-use site that makes money from advertising. We have a modified experience for viewers using ad blockers

Wikia is not accessible if you've made further modifications. Remove the custom ad blocker rule(s) and the page will load as expected.