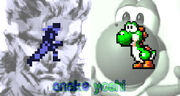 Round Three

Friday, November 3rd, 2006
Poll 2551
Round
Patriot Division Final
Match #
53
Match Date
Friday, November 3rd, 2006
Vote difference
17,304
Oracle
Expectations
Solid Snake - 57.87%
107 for - 0 against
GameFAQs
Prediction
Solid Snake - 68.16%
(29,068 brackets)
Somehow, some way, Ceej finds a way to make Snake look worse and worse with each successive sprite round. He has to know it to be an inside joke at this point.
In 2004 and 2005, Snake delivered two of the worst matches ever given by an "elite" character, both in sprite rounds against green animals. As such, the trendy pick was picking Snake to massively underperform again. And if this were 2005, Snake may have done just that. But Snake did no such thing, and was actually in the 59-60% range in the poll for quite awhile before the day vote came along to knock him down a bit.
Given how badly most expected Snake to do here (and for good reason, because his history in sprite matches is GOD-EFFING-AWFUL), 57% on Sprite Yoshi isn't half bad and is only about 4% worse than what would be expected through X-Stats. If his first two matches didn't clue you in that Snake was a beast this year, them him doing fine in a sprite match should have. And if that wasn't enough, we were only one round away from the Snake Victory Tour™ starting up as of this match.
Match Trends
Edit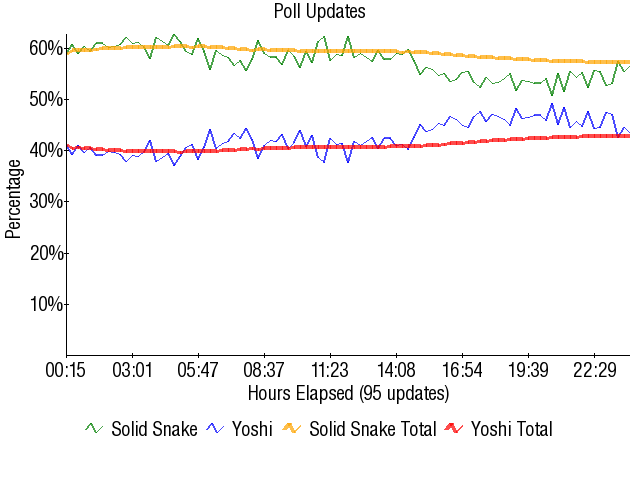 External Links
Edit
Ad blocker interference detected!
Wikia is a free-to-use site that makes money from advertising. We have a modified experience for viewers using ad blockers

Wikia is not accessible if you've made further modifications. Remove the custom ad blocker rule(s) and the page will load as expected.