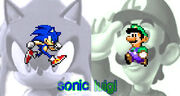 Round Three

Sunday, November 5th, 2006
Poll 2553
Round
Blast Division Final
Match #
55
Match Date
Sunday, November 5th, 2006
Vote difference
27,001
Oracle
Expectations
Sonic - 56.22%
108 for - 3 against
GameFAQs
Prediction
Sonic - 40.04%
(17,075 brackets)
What a god-awful prediction percentage. Who exactly in this division was going to beat Sonic? And that Luigi sprite reminds me of painful memories of people claiming that Luigi is anything but an uncontrollable hack in Mario 2.
Anyway, this match was a large coming down to earth for Luigi after his two, um... "upsets" of Zero and Kirby. Not only was Luigi never in this match, but he more or less did exactly what he was supposed to based off of 2005 stats save for actually breaking 40%. He did no better than what Tifa did last year, and if you paid no attention to any matches prior you'd assume this division to be another in the line of predictable duds.
However, this thing said a lot about how fraudulent Kirby and especially Zero have been. Kirby can easily be blamed on SFF (for now), but Zero is another animal altogether. The guy has never really shown signs of being overrated, yet he was slapped around by what ended up being a perfectly static Luigi. Either Luigi > Zero was SFF, or Zero has been a complete fluke for years. We'll see next year, I suppose.
Match Trends
Edit
External Links
Edit
Ad blocker interference detected!
Wikia is a free-to-use site that makes money from advertising. We have a modified experience for viewers using ad blockers

Wikia is not accessible if you've made further modifications. Remove the custom ad blocker rule(s) and the page will load as expected.