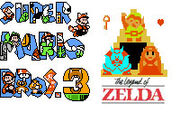 Monday, May 31st, 2004
Poll 1657
Round
Division 8 Final
Match #
57
Match Date
Monday, May 31st, 2004
Vote difference
10,578
Oracle
Expectations
Super Mario Bros. 3 - 51.98%
46 for - 6 against
GameFAQs
Prediction
Super Mario Bros. 3 - 40.31%
(16,503 brackets)
CJayC was accepting fan art for the final rounds of the contest. Pretty good idea, considering how hard it is to come up with new ideas for game pictures. Character pictures are one thing, game pictures are something else.
And my, how the mighty have fallen in this contest. Ever since Final Fantasy 6 took the initial lead on LTTP, the aura of invoncibility was gone for Zelda. The Wind Waker ended Zelda's winning streak, and The Legend of Zelda lost with ease to Mario 3 in this match. It was as hyped as any match could get, but like a lot of other Zelda hype in this contest, it all died after LTTP's match against FF6. And unlike any other match in which Zelda loses, there was no whining here. It was almost a foreshadowing of how badly Zelda was going to do for the rest of this contest.
But let's not take away from Mario 3 here. It has always been my opinion that this game is the best of all time, and it's fitting for it to do well in a contest entitled 'Best. Game. Ever.'. It isn't my favorite game of all time, but I clearly think that it's the best. It showed in this match, at least. SFF finally worked against a Zelda title, and I would assume it would be out of respect for what Mario 3 did for the industry. Zelda wound up becoming the superior Nintendo series over time, but Mario 3 was clearly the superior back in the NES days. No surprise at all that it won this match with ease.
Match Trends
Edit
External Links
Edit
Ad blocker interference detected!
Wikia is a free-to-use site that makes money from advertising. We have a modified experience for viewers using ad blockers

Wikia is not accessible if you've made further modifications. Remove the custom ad blocker rule(s) and the page will load as expected.