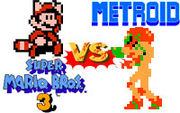 Thursday, May 6th, 2004
Poll 1633
Division
Division 8
Match #
33
Match Date
Thursday, May 6th, 2004
Vote difference
45,447
Oracle
Expectations
Super Mario Bros. 3 - 67.96%
63 for - 0 against
GameFAQs
Prediction
Super Mario Bros. 3 - 72.04%
(29,493 brackets)
Finally, a new round was upon us! Some normalcy returned back to our contest, as we entered back into the Archaic Division of 8 Bit with an easy match to analyse. Another new addition to this round was the match pictures. We were back to the character portraits as shown in the first rounds of the 2002 and 2003 contests, which created all sorts of nostalgia.
As for the actual match, if you go solely by stats, Mario and Samus are supposed to be close together in character strength. I personally don't believe this, as I think Mario would take Samus apart in a poll. But this isn't a character contest, it's a game contest. And in this game contest, Mario 3 showed that it was the favorite to win the 8 Bit division after it utterly destroyed the original Metroid. It was up in the air after The Legend of Zelda trounced Adventure so badly, but this match seemed like a huge wakeup call, at least until Zelda 1's next matchup. Three Metroid titles were in this contest, and this was the first one to go down. And it went down with a huge thud, too.
Nice to see the board calm down, too. This was the first of many predictable matches all in a row. Bad for drama, but at least there was no reason to stay up all hours of the night to see what was going on.
Match Trends
Edit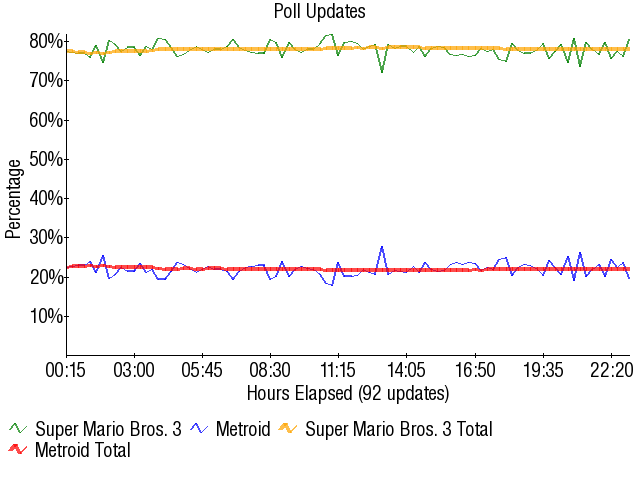 External Links
Edit
Ad blocker interference detected!
Wikia is a free-to-use site that makes money from advertising. We have a modified experience for viewers using ad blockers

Wikia is not accessible if you've made further modifications. Remove the custom ad blocker rule(s) and the page will load as expected.