Round Two
Monday, October 16th, 2006
Poll 2533
Round
Limit Division Semi Final
Match #
35
Match Date
Monday, October 16th, 2006
Vote difference
59,661
Oracle
Expectations
Tifa Lockhart - 69.73%
124 for - 0 against
GameFAQs
Prediction
Tifa Lockhart - 79.01%
(33,695 brackets)
Tifa vs The Boss wasn't a difficult match to look at; it was another in a long line of "What percentage will the winner get?" matches. The only real X-Stat info was 2005 Tifa versus Villain Contest Ocelot (64.76% for Tifa), so it's easy to call Ocelot stronger than The Boss after seeing this match. Tifa wins easily. Blah blah blah.
The real issue here was all of the fighting that broke out over who would win in a fight between these two, mainly because some were dumb enough to say that Tifa stood a chance. Tifa got her ass whipped by some scrub named Loz. The argument should just end right there.
Though if you really want to get into the technical aspects, Tifa is a straight-up brawler. The brawler style plays directly into The Boss's hands, and all of Tifa's joints would be snapped four seconds after the fight began.
Any questions? No? Good.
Match Trends
Edit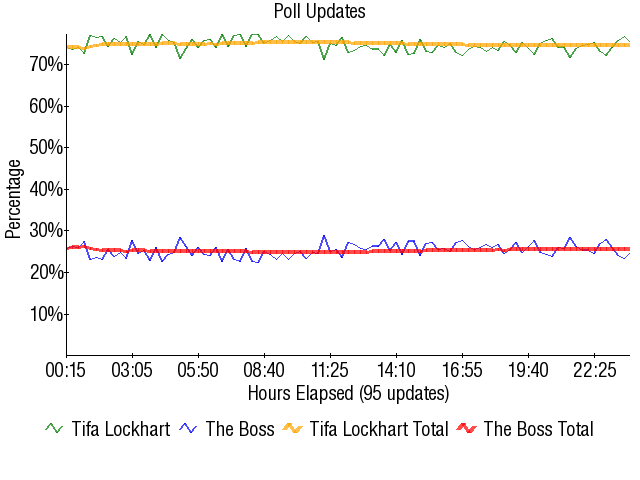 External Links
Edit
Ad blocker interference detected!
Wikia is a free-to-use site that makes money from advertising. We have a modified experience for viewers using ad blockers

Wikia is not accessible if you've made further modifications. Remove the custom ad blocker rule(s) and the page will load as expected.