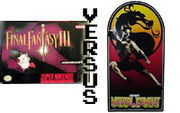 Saturday, April 17th, 2004
Poll 1616
Division
Division 16
Match #
16
Match Date
Saturday, April 17th, 2004
Vote difference
44,398
Oracle
Expectations
Final Fantasy VI - 77.51%
85 for - 1 against
GameFAQs
Prediction
Final Fantasy VI - 81.14%
(33,219 brackets)
I'd love to know how only 81.14% of people thought FF6 would own this match. Did a bunch of people think that Kefka's performance in 2003 meant anything in terms of FF6's overall popularity? Granted, Scorpion did better against Pac Man than Kefka, but the respective games are an entirely different animal. Mortal Kombat, while damned huge for its time, never stood a chance of winning this match. The only question that remained was whether or not the overall board opinion was wrong on LTTP being a shoo-in for the divisional finals. Going by the first round alone, FF6 stood no chance. But my goodness, we were pretty off on how powerful FF6 truly turned out to be on this site. Many people, including me, still consider it the best game in the series by far.
Under most circumstances, I'd say that a 74% victory wasn't dominating. But Mortal Kombat is a big franchise, and having it being held to under 30% is quite the accomplishment.
External Links
Edit
Ad blocker interference detected!
Wikia is a free-to-use site that makes money from advertising. We have a modified experience for viewers using ad blockers

Wikia is not accessible if you've made further modifications. Remove the custom ad blocker rule(s) and the page will load as expected.