(2)Shadow of the Colossus vs (15)The Sims 2010
Talk

1
4,099pages on
this wiki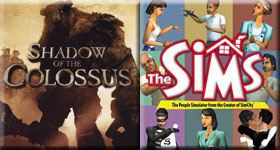 Round 1



Tuesday, November 16, 2010
Poll 4124
Division
West
Match #
56
Match Date
Tuesday, November 16, 2010
Vote difference
20,241
Oracle
Expectations
Shadow of the Colossus - 61.07%
98 for - 5 against
GameFAQs
Prediction
Shadow of the Colossus - 66.23%

Battle Contest
Predictions

Banked: 845
Shadow of the Colossus: 14881
The Sims: 7253
I don't know if The Sim got a Game of the Decade boost or if Shadow of the Colossus hate is pretty widespread beyond my own tastes or what, but this was one of the weirdest prediction percentages all contest. Even battle people only favored SotC, a 2 seed, at a 2:1 ratio. Something was just way off here, especially when you compare those numbers to MGS2's.
As for the actual match, Shadow of the Colossus of course won it easily. There was some buzz about The Sims pulling an upset, and it died about 10 seconds into the poll. But SotC was actually over 70% at one point, then lost the ASV to fall back down near 69.
If you ignore the rest of the contest and just look at the first round, there was no way to expect anything other than a 55-45 win, at least, for MGS2 over SotC. Something very, very odd happened in the first round here. And the LOL x-stats can go to hell, too. Banjo-Tooie would wreck The Sims and everyone knows it.
Match Trends
Edit
External Links
Edit
• Previous Match       • Next Match