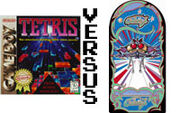 Friday, April 9th, 2004
Poll 1608
Division
Division 8
Match #
08
Match Date
Friday, April 9th, 2004
Vote difference
47,747
Oracle
Expectations
Tetris - 79.57%
79 for - 0 against
GameFAQs
Prediction
Tetris - 88.60%
(36,273 brackets)
And with this match, the archaic division's first round came to a close. Everything in this division was about nostalgia votes, and every match went as expected without any real upsets. The only thing to really note about this match is that Galaga performed far better than expected for much of the poll, and it was a late push by Tetris that really pushed its percentage higher. Tetris's performance was so 'neh' that our very own Slowflake made a couple of great posts about how Pong might shock the world and beat Tetris in the next round. Scary I know, but a 2 seed underperforming for much of the poll is never a good thing.
But still, Tetris survived and advanced, which is all that counts. I'm just curious as to the 11.4% of bracketmakers who actually thought Tetris was winning this match. Galaga performed better than expected for a long time, but it still got its ass kicked.
This division was clearly the easiest to call in the contest. Aside from a near-flop by Donkey Kong and the imminent clash of Mario 3 and Zelda 1 in the divisional final, none of these matches were particularly hard to see coming.
External Links
Edit
Ad blocker interference detected!
Wikia is a free-to-use site that makes money from advertising. We have a modified experience for viewers using ad blockers

Wikia is not accessible if you've made further modifications. Remove the custom ad blocker rule(s) and the page will load as expected.