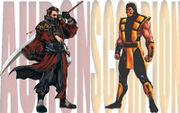 Sunday, August 22nd, 2004
Poll 1739
Division
Midgar Division
Match #
22
Match Date
Sunday, August 22nd, 2004
Vote difference
26,744
Oracle
Expectations
Auron - 61.73%
70 for - 0 against
GameFAQs
Prediction
Auron - 70.14%
(23,301 brackets)
No one really knew what to expect of this match, except that most people knew that Auron would win with ease. The question, of course, was by how much. Scorpion was projected to score 43.06% on Auron going by the 2003 numbers, so naturally, a lot of questions can obviously be raised after seeing that Auron not only beat his projected percentage, but blew it away completely. Any one of a hundred reasons could be blamed for this, but I think that two stand out from the rest.
First and foremost, it could easily be argued that Auron suffered a good deal of SFF against Cloud in 2003. The 2003 Xsts are currently unadjusted for SFF, so Auron may look far weaker than he truly is based off of 2003 numbers. But if this were true, then this would mean that Tails would have to be stronger than expected as well. Since this was not possible to know at the time (Tails had not yet had his match), this was merely a speculation.
Secondly, Scorpion went down in strength from 2002 to 2003 despite having Deadly Alliance released in the time period between the contests. To my knowledge, Scorpion appeared in no games between 2003 and 2004. With that in mind, what reason could there be to believe that he didn't take another fall in strength? If he can go down despite a new game, there is little reason to believe that he wouldn't go down while appearing in nothing. It's quite possible that Auron's performance was a combination of Cloud/Auron SFF as well as Scorpion's weakness as well, but as the contest progressed, it became clear that it was more a Cloud/Auron SFF factor than it was the strength, or lack thereof, of the two characters in the match.
Summary: Everyone knew Auron was going to win this match, but Auron doing as well as he did suddenly made Tails look like he could very well take down the heavily favored Viewtiful Joe in their match later on in the contest. Auron looked pretty damned strong after this match, but a certain match with Ness would throw all of this into question later.
Match Trends
Edit
External Links
Edit
Ad blocker interference detected!
Wikia is a free-to-use site that makes money from advertising. We have a modified experience for viewers using ad blockers

Wikia is not accessible if you've made further modifications. Remove the custom ad blocker rule(s) and the page will load as expected.