Round Two
Sunday, October 29th, 2006
Poll 2546
Round
Time Division Semi Final
Match #
48
Match Date
Sunday, October 29th, 2006
Vote difference
25,927
Oracle
Expectations
Auron - 61.45%
116 for - 2 against
GameFAQs
Prediction
Auron - 35.88%
(15,301 brackets)
It never fails; Master Chief is always going to be overestimated to hell and back in these things. Only 36% of people had Auron winning twice?
Anyway, Subby's upset run lasted all of one match, and Auron predictably beat him easily. The vote totals are a bit high due to the match being 25 hours long, but still, nearly 135,000 votes on a meaningless second round match is silly. And Sub-Zero looks like The Shredder in the match pic, which is totally unrelated but I felt like mentioning it anyway.
What truly matters here is that a long-standing injustice has finally been rectified. A couple years back, Auron faced Scorpion in a match. The result: http://www.gamefaqs.com/poll/index.html?poll=1739
Auron won 64.85% - 35.15%. Extrapolated, Sub-Zero scores 43.53% on his inferior palette swap clone POS. This match made me a happy man, because for two years Scorpion kept getting into brackets on the basis of one weak-ass eightpack while the far superior Sub-Zero sat on the sidelines. When Subby finally got his chance to perform, he not only exposed Master Chief (But who doesn't?) but he also proved that Scorpion never had a place getting into contests over him. Thank you, Rally Contest <3
And on that note, two rounds in the books with our best contest stretch run since Games 2004 yet to go.
Match Trends
Edit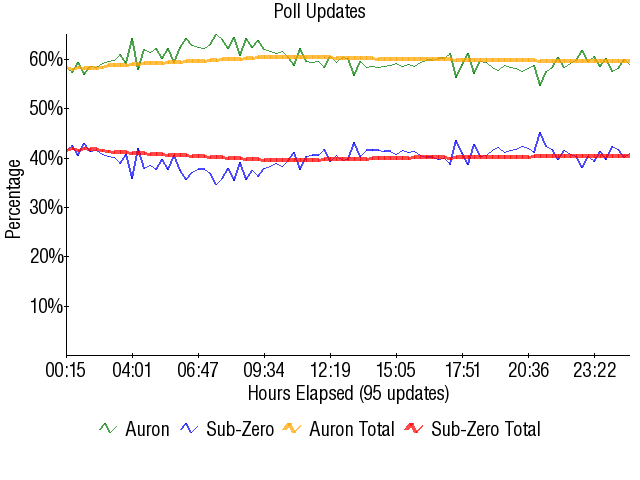 External Links
Edit
Ad blocker interference detected!
Wikia is a free-to-use site that makes money from advertising. We have a modified experience for viewers using ad blockers

Wikia is not accessible if you've made further modifications. Remove the custom ad blocker rule(s) and the page will load as expected.