Sunday, May 2nd, 2004
Poll 1630
Division
Division 128
Match #
30
Match Date
Sunday, May 2nd, 2004
Vote difference
37,902
Oracle
Expectations
Final Fantasy X - 83.06%
68 for - 0 against
GameFAQs
Prediction
Final Fantasy X - 92.94%
(38,050 brackets)
After the Wind Waker put up a tame number against Skies of Arcadia, it was up to FFX and SSBM to prove that they were worthy of winning the division. First up was FFX, and though everyone knew that FFX would win the match, the true test was whether or not it would prove itself as a title worthy of winning the division.
Needless to say, it flopped horribly in this match. Yes, Ryo Hazuki has performed well in the two contests, but that doesn't mean that FFX had an excuse to perform worse against Shenmue than Wind Waker performed against Skies of Arcadia. It wasn't much of a percentage discrepency between the two matches, but when one factors in the fact that Skies of Arcadia can and would beat Shenmue on this site in a poll, it meant that FFX was suddenly no longer the favorite to win the division (the BOP had it the most favored, I believe). The title went to the Wind Waker, odd as it may seem, after this matchup was over. When you are the favorite to win a division, 75% on Shenmue is unacceptable, and FFX would pay for it later on.
But in all fairness, this division looked as if it would be a battle of the Zelda and Final Fantasy titles from our generation. Gee, doesn't that seem familiar? If FFX had any hope, it would be that it was clear that Final Fantasy 7 was going to beat Ocarina of Time after the first round. So why would FFX not be able to beat the Wind Waker? Makes enough sense to think that FFX could beat Wind Waker if FF7 could beat Ocarina of Time, no? The only thing the games had to worry about at this point was Super Smash Brothers Melee, who had yet to perform. Honestly, what else going to come between them, Starcraft? Puh-leeze.
Wait a moment....
Match Trends
Edit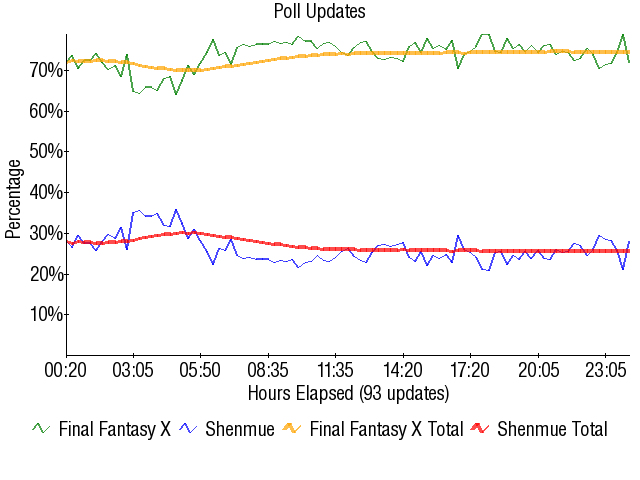 External Links
Edit
Ad blocker interference detected!
Wikia is a free-to-use site that makes money from advertising. We have a modified experience for viewers using ad blockers

Wikia is not accessible if you've made further modifications. Remove the custom ad blocker rule(s) and the page will load as expected.