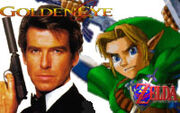 Friday, May 28th, 2004
Poll 1654
Round
Division 32-64 Semi Final
Match #
54
Match Date
Friday, May 28th, 2004
Vote difference
33,409
Oracle
Expectations
Ocarina of Time - 70.80%
55 for - 0 against
GameFAQs
Prediction
Ocarina of Time - 60.73%
(24,863 brackets)
This will be one of the shortest analyses in the entire topic, as it's really easy to look at this match. Pity that no one actually cared about this match, too. It was all about setting up the true final of this contest.
As I said in the last match, Ocarina of Time had to clearly outperform Final Fantasy 7's total. It did so, but by only 1.75%. Metal Gear Solid is clearly stronger than Goldeneye, and a 1.75% difference between the two games against their respective opponents did not mean well for Ocarina of Time in the next round. Another interesting note would be that Ocarina of Time's poll scored 7500 less votes. Ocarina of Time also scored less votes, and the prediction percentages did not favor the Zelda title in the next round at all; a difference of over 18% in prediction percentage this late in the contest is not good when you're on the low end. And before people start yelling at me for bringing up prediction percentage again, we had stats by this point in the contest, and the numbers were clear as day. Ocarina of Time clearly had a hill to climb in its next match.
There is only one real note I can make about this match, and again Slowflake mentioned it first. The irony of this match was wonderful. Ocarina of Time is the best-selling N64 title, but which game was #1 until it game along?
It was -- you guessed it -- Frank Stall... err, Goldeneye.
mentions something about Zelda being 11-0, then leaves topic*
And surely, Zelda would be an easy 12-0 after the first three rounds. I mean, little Starcraft couldn't possibly give Wind Waker the fits.... could it?
Match Trends
Edit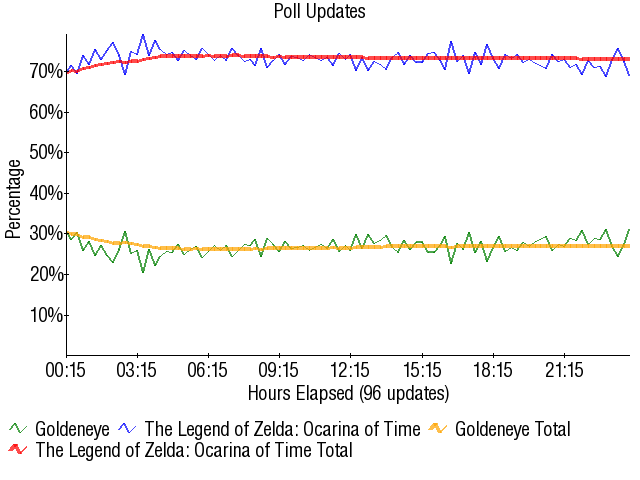 External Links
Edit
Ad blocker interference detected!
Wikia is a free-to-use site that makes money from advertising. We have a modified experience for viewers using ad blockers

Wikia is not accessible if you've made further modifications. Remove the custom ad blocker rule(s) and the page will load as expected.