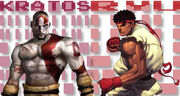 Round One

Wednesday, October 4th, 2006
Poll 2521
Division
Destiny Division
Match #
23
Match Date
Wednesday, October 4th, 2006
Vote difference
16,485
Oracle
Expectations
Ryu - 61.12%
132 for - 3 against
GameFAQs
Prediction
Ryu - 49.01%
(20,901 brackets)
How odd that a match like Kratos/Ryu ended up being the first with a prediction percentage of less than 50. We like to bash the stats a lot, but matches like this where a ton of people may have picked the obvious loser without stats existing are a good example of what they're good for. Kratos being the bracket favorite against a staple like Ryu is proof that he has the casuals in his hip pocket.
This match was never in doubt, but take a look at the beast day vote that Kratos has. At one point, Ryu was at 62% in the poll. He dropped 5% once the day vote got going, and Kratos managed to win several updates throughout the match. If Kratos is ever put into a winnable situation, we might see a nice comeback from him. It's worth noting however that Kratos's two matches in which he killed the day vote were against characters that tend to suck with it. Alucard is just terrible during the day, and anything Street Fighter isn't all that much better off.
For the statheads, Kratos was only expected to get 34.02% here, but his number is warped due to that fluke Snake > Sora match last year. We need to see something like Kratos against Master Chief just to test out whether or not this match makes him a fluke.
On a side note, the SF3 Ryu sprite in M.U.G.E.N. is just unfair. I suck at fighting games and still never lose with him because of all the invincibility frames he has during a midair Tatsumaki Senpuukyaku or whatever the hell it's called.
Match Trends
Edit
External Links
Edit
Ad blocker interference detected!
Wikia is a free-to-use site that makes money from advertising. We have a modified experience for viewers using ad blockers

Wikia is not accessible if you've made further modifications. Remove the custom ad blocker rule(s) and the page will load as expected.