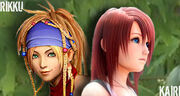 Round Two

Sunday, October 15th, 2006
Poll 2532
Round
Spazer Division Semi Final
Match #
34
Match Date
Sunday, October 15th, 2006
Vote difference
21,451
Oracle
Expectations
Rikku - 62.04%
119 for - 4 against
GameFAQs
Prediction
Rikku - 58.25%
(24,841 brackets)
This match was pretty much exactly what I and others expected, but WTF at the 58% prediction percentage. Have all been looking at the same contests or what? Kairi was able to use KH2 alone to take down Claire Redfield, but that logic pretty much goes out the window when you throw a Square character from a recent FF title into the mix, and one that actually... you know, does something in her game?
This match was so boring that you can look at the final result and practically see the entire trend from start to finish. Rikku had a minor bracket vote surge, and the fabled KH day vote was only able to give Kairi 1% during the day. I guess you could assume Rikku was supposed to do better if you compared their respective roles within their games, but it's not like it matters.
Gotta love the 8x8 format, where the winner of a match like this can actually make the divisional finals. Ugh.
Match Trends
Edit
External Links
Edit
Ad blocker interference detected!
Wikia is a free-to-use site that makes money from advertising. We have a modified experience for viewers using ad blockers

Wikia is not accessible if you've made further modifications. Remove the custom ad blocker rule(s) and the page will load as expected.