Round One

Thursday, September 14th, 2006
Poll 2501
Division
Spazer Division
Match #
03
Match Date
Thursday, September 14th, 2006
Vote difference
55,420
Oracle
Expectations
Rikku - 74.78%
147 for - 0 against
GameFAQs
Prediction
Rikku - 85.94%
(36,650 brackets)
One of these days, I need to get around to playing the iso of Valkyrie Profile that I own (er, HAVE <_<) just to see how Lenneth is doing so well in that "Who Would Win in a Fight?" contest. I don't think I've ever seen KOS-MOS lose a match in one of those things until this year.
And with that said, isn't it odd to think that Rikku is the FFX entity to pull off the biggest blowout for the series? Tidus, Auron, Yuna, and even FFX itself couldn't ever pull 75% in a poll, but Rikku could. Says a lot about how many people even know who Lenneth is.
I should also get around to playing Valkyrie Profile 2 one of these days, for the same reasons as above. But thinking about that is depressing, because my backlog of games is absolutely beyond catching up with :(
Hmm, what else can be said about such a boring blowout... Well the vote totals got back above 100,000, and I believe they stayed there for the rest of the contest. Rikku proved that last year's good match against Ryu was no fluke, at least in terms of being consistent. It's difficult for most flukes to ever break 75% in a match, unless they're up against complete jokes. And if this match didn't prove Rikku's worth, the second round likely would in the eyes of most.
You know, I just noticed that of all of Ceej's division names, "Spazer" is the most badass-sounding of them all. Ruin and Patriot come close, but come on. Spazer? FF6 taking a 1 seed in a games contest and being named the Havoc Wing division is the only thing I can think of that sounds more badass.
Match Trends
Edit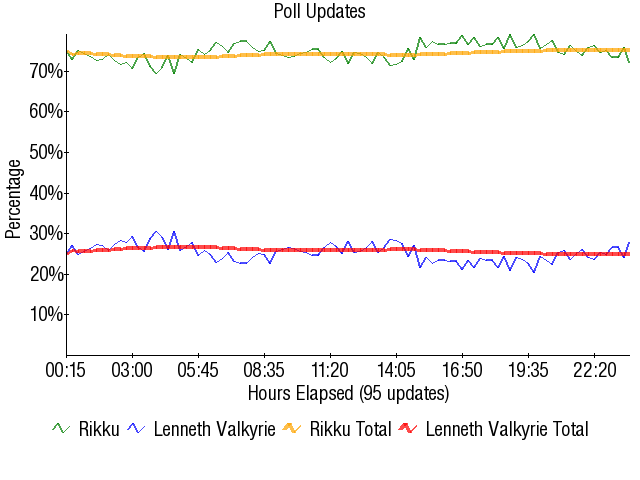 External Links
Edit
Ad blocker interference detected!
Wikia is a free-to-use site that makes money from advertising. We have a modified experience for viewers using ad blockers

Wikia is not accessible if you've made further modifications. Remove the custom ad blocker rule(s) and the page will load as expected.