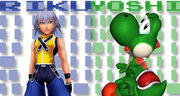 Round One
Saturday, September 30th, 2006
Poll 2517
Division
Patriot Division
Match #
19
Match Date
Saturday, September 30th, 2006
Vote difference
13,069
Oracle
Expectations
Yoshi - 58.42%
127 for - 10 against
GameFAQs
Prediction
Yoshi - 58.10%
(24,777 brackets)
This was an interesting little match. Most people in the know figured Yoshi for an easy win, while a lot of casuals took the pick-all-higher-seeds route. The result was a seeding upset and a low prediction percentage. There was some grounds for Riku possibly pulling off the upset, but it revolved around ridiculous KH2 boosts and Yoshi's stat values (all behind SFF) being near-100% accurate.
Yoshi began this match on fire, but the rest of the poll was to watch how low he could go. Yoshi began this thing over 70%, then he just bombed down in percentage from there on in. Yoshi was never in danger of losing, but this was one of those moral-victories to-the-loser deals. Riku managed to snag an update or two here and there, and the beast KH day vote was on full display yet again.
This left us with one of two conclusions upcoming in round two. Yoshi/Dante was on the horizon, and Yoshi backers argued that he was behind SFF in the stats in every contest, therefore his true value would come through for the win. For this to come through after Riku's performance, it would mean that Kingdom Hearts 2 kicked this contest's ass. The other ending to that whole debate would simply be Yoshi not coming through, and it didn't look too good after Yoshi's first match.
Oh and watch us get Riku/Bowser in the first round next year. It's not a character battle without Riku getting fed to some green animal in the first round :(
Match Trends
Edit
External Links
Edit
Ad blocker interference detected!
Wikia is a free-to-use site that makes money from advertising. We have a modified experience for viewers using ad blockers

Wikia is not accessible if you've made further modifications. Remove the custom ad blocker rule(s) and the page will load as expected.