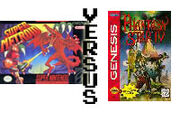 Thursday, April 15th, 2004
Poll 1614
Division
Division 16
Match #
14
Match Date
Thursday, April 15th, 2004
Vote difference
56,376
Oracle
Expectations
Super Metroid - 77.74%
86 for - 0 against
GameFAQs
Prediction
Super Metroid - 91.08%
(37,288 brackets)
For a game that was billed by some people to take down Link to the Past, they were flat-out shot down in this match. For Super Metroid to stand any chance whatsoever, it needed to perform on par or equal to LTTP in its match against Phantasy Star IV. Allowing it almost 17% of the vote didn't cut it, to be honest. But not to discredit Phantasy Star IV here. I know some people who are absolute masters of the RPG genre, and quite a few of them have mentioned the Phantasy Star series as being the best RPG series out there. And these people have played all of Final Fantasies, Lunar, Chrono Trigger, and other series as well. Yet they put PS4 above them all. Interesting, to say the least.
As for Super Metroid, I think that everyone should have seen its imminent second round fate coming after this match. Had LTTP gone up against Phantasy Star IV, I can assure you that it would have been close to the beatings that the Zeldas were laying on Adventure and Gunstar Heroes. PS4 is a great game, but it simply doesn't have the necessary popularity on our site to win most matches. It's a shame that Super Metroid didn't perform to expectations as well, because that one website (the name slips me) was dead-on when it called Super Metroid the best game of all time. It deserves the title, and if I ever made such a list, it would easily make the top ten. Easily. But what other websites think don't matter. On our site, wrong as it may be, it was clear that Super Metroid stood no chance whatsoever of making the sweet sixteen once this match was done and overwith.
External Links
Edit
Ad blocker interference detected!
Wikia is a free-to-use site that makes money from advertising. We have a modified experience for viewers using ad blockers

Wikia is not accessible if you've made further modifications. Remove the custom ad blocker rule(s) and the page will load as expected.