(3)The Legend of Zelda: The Wind Waker vs (14)God of War II 2010
Talk

0
4,099pages on
this wiki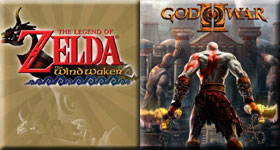 Round 1




Friday, November 19, 2010
Poll 4129
Division
Northwest
Match #
61
Match Date
Friday, November 19, 2010
Vote difference
10,643
Oracle
Expectations
The Legend of Zelda: The Wind Waker - 62.06%
103 for - 0 against
GameFAQs
Prediction
The Legend of Zelda: The Wind Waker - 59.75%

Battle Contest
Predictions

Banked: 736
The Legend of Zelda: The Wind Waker: 13997
God of War II: 8931
If you look at the final numbers of this poll, you end up looking at a fairly mundane match. Zelda failing to double a very popular game from a very popular franchise, not to mention a really low prediction percentage and God of War 2 doing pretty decent coming off of its good vote-in showing.
And then you look at the update chart. Zelda started over an insane 75% before bleeding all the way down to 64, and it didn't even recover percentage during the morning vote. This doesn't happen to Zelda games, and it was either Wind Waker not getting much respect, God of War 2 getting a lot of respect or a combination of both.
Basically, this match meant Wind Waker was screwed against the Majora/GSC winner. You just don't see main line Zelda games doing weird things like this. Normally they go out and murder souls. Wind Waker showed a lot of the old Celda hate still lingers, which meant certain trouble later.
Match Trends
Edit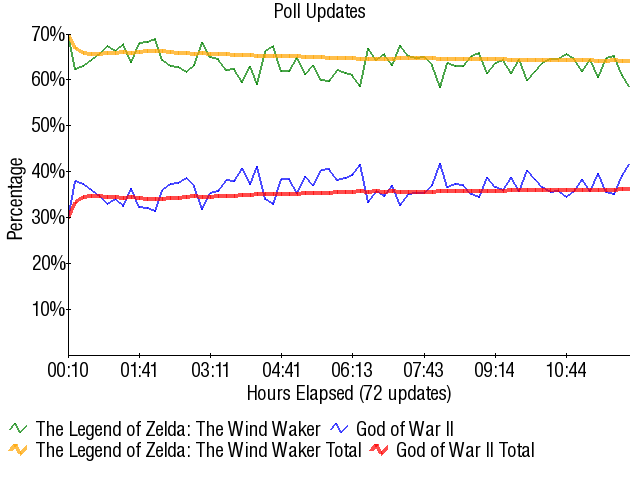 External Links
Edit
• Previous Match       • Next Match