Monday, May 24th, 2004
Poll 1650
Round
Division 8 Semi Final
Match #
50
Match Date
Monday, May 24th, 2004
Vote difference
34,396
Oracle
Expectations
The Legend of Zelda - 70.88%
57 for - 0 against
GameFAQs
Prediction
The Legend of Zelda - 71.26%
(29,174 brackets)
Poor HoratioQHornblower. If he picks Zelda 1 to win this match, he may have won the contest. But it isn't like his reasoning wasn't good. He owns a gaming store, so I'm sure he remembers the national craze that involved the Game Boy, Tetris, and the 33 million copies that have been released worldwide.
But, this is gamefaqs. As I've said all throughout this analysis, Zelda and Square rule everything around here. And after Mario 3 stuttered against Final Fantasy a little bit, it was The Legend of Zelda's turn to show what kind of a threat it would be. Well, is a 75-25 win over Tetris enough of a threat? Or what about the prediction percentages? Only 55% of people thought Mario 3 was going to reach the divisonal finals, yet 71% of people thought Zelda 1 would get this far. And it's a broken record by this point, but Zelda was continuing to dominate this contest. It was 9-0 and rolling at this point, and it looked like the clear favorite to take Division 8 after this match. All of the numbers lined up for it, at least. The only hope that Mario 3 looked to have was the voting total in the two matches. Mario 3's match against Final Fantasy scored nearly 4000 more votes than the Zelda 1 poll managed to score. But then we have to realize that no one cared about any match involving Tetris. It truly did seem like Zelda was going to walk away with it after this match.
Match Trends
Edit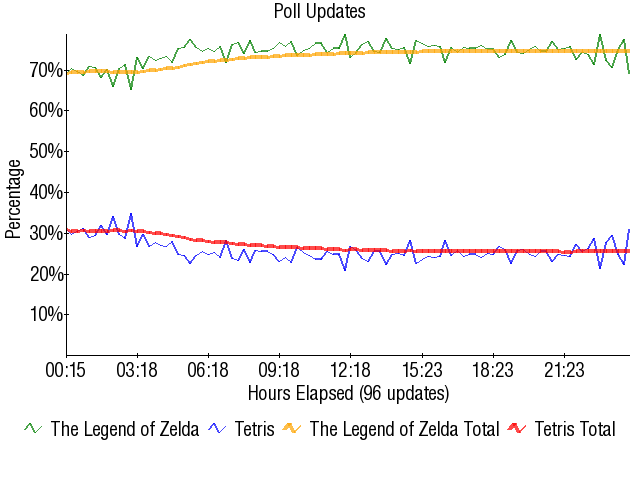 External Links
Edit
Ad blocker interference detected!
Wikia is a free-to-use site that makes money from advertising. We have a modified experience for viewers using ad blockers

Wikia is not accessible if you've made further modifications. Remove the custom ad blocker rule(s) and the page will load as expected.