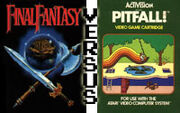 Monday, April 5th, 2004
Poll 1604
Division
Division 8
Match #
04
Match Date
Monday, April 5th, 2004
Vote difference
74,682
Oracle
Expectations
Final Fantasy - 81.80%
77 for - 0 against
GameFAQs
Prediction
Final Fantasy - 96.46%
(39,491 brackets)
As you can see, this was a beating of epic proportions. Not only did Final Fantasy completely own this poll despite having no exclamation points in its title, but it managed to have the second highest prediction percentage of any match in Division 8. Many of the stat nuts on this board were, including myself, were wondering why Super Mario 3's prediction percentages were so low, but I think much of the blame can be placed on Final Fantasy. Honestly, go look at the percentages for this half division. It makes no sense for Mario 3's stats to be so low in an eight pack that it had no chance of losing, but the numbers don't lie.
In other news, isn't it nice to see high-scoring polls? We didn't get too many of them, but this poll was uninterrupted. The old layout, one poll, no distractions. The good old days, which sadly shall never return to us. Another thing that was sad was how obvious it was that Contra had no chance to beat Final Fantasy as this poll was taking place. Sheer dominance for one of the more mediocre games in the series.
Am I missing something here....?? Oh of course! I AM THE BLACK MAGE! I CAST THE SPELLS THAT MAKES THE PEOPLES FALL DOWN!!
Like you were getting through this analysis without an 8-Bit Theater reference. Keep dreaming.
Stats and Analysis
Edit
Before the Match
Edit
Final Fantasy was developer Square's last shot at making money, and the result was a franchise. It was the effect of franchise voting that made Final Fantasy an intriguing competitor in this tournament. Final Fantasy VII was regarded as the most popular game on GameFAQs, and if enough fans of that game supported the NES original, an upset over Super Mario Bros. 3 was possible. But first it had to take care of business against the classic Pitfall.
After the Match
Edit
Final Fantasy took care of business alright, winning this match by a massive margin. It was clear that Final Fantasy was on a collision course with Super Mario Bros. 3, while Pitfall Harry was left to pick up the pieces of his game.
External Links
Edit
Ad blocker interference detected!
Wikia is a free-to-use site that makes money from advertising. We have a modified experience for viewers using ad blockers

Wikia is not accessible if you've made further modifications. Remove the custom ad blocker rule(s) and the page will load as expected.