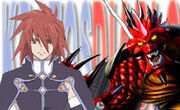 Saturday, August 13th, 2005
Poll 2091
Division
Chaos Division
Match #
26
Match Date
Saturday, August 13th, 2005
Vote difference
11,621
Oracle
Expectations
Diablo - 60.14%
90 for - 1 against
GameFAQs
Prediction
Diablo - 78.74%
(26,609 brackets)
This match was an interesting one, not because Kratos was necessarily a threat to win, but it would somewhat validate whether or not Diablo's Spring 2005 performance was legit, as well as help to put the TOS characters in a more accurate line. One could assume that Kratos was the strongest TOS character of the bunch, but by how far? And even if you wanted to give Kratos/Liquid Snake/Cam Clarke a chance, Mithos would only be expected to score 33.07% on the Kefka slayer. That's a whole lot of ground for Kratos to make up.
Kratos was pretty much out of the match right when it started, given that a heavy TOS board vote couldn't even keep Kratos within striking distance during Diablo's weakest part of every match. It took mere seconds for Diablo to shake off Kratos's few seconds of decency before running away with the match, however Kratos would go on to avoid being outright killed in the match. The inside joke about my standard for a killing is 57-43, after all <_<
Ironically, after all the crap that Lloyd took after his bombing against Wesker, Lloyd was the only TOS character out of three to win a contest match in the 2005 season. Mithos didn't even come close, and though Kratos is probably the most popular character in the series, he was stuck going up against a Diablo who had just come off of arguably being the most impressive character this past spring. However, if there is one thing that Kratos can take from this loss, it's that he's likely so far ahead of Lloyd in popularity that even if Lloyd managed to SFF Kratos a little in a hypothetical match, Kratos would likely win with ease regardless.
Which is odd, because we've seen various examples of those "Favorite Character" polls not being the least bit accurate (though we haven't had one for TOS as of yet on our site, I don't think). Yet with TOS, it seems to be fairly accurate. Perhaps it's because of the way that the TOS battle system works, or maybe it's due to the fact that Lloyd is such an idiot in the game that he has virtually no appeal whatsoever. Either way, a match involving two among the Lloyd/Kratos/Sheena trio could be interesting. And hey, on another bright note, Kratos actually managed to win a couple of updates in the later stages of the match.
As for Diablo, he did... pretty much exactly what he was expected to do. Beat Kratos, job to Sonic, possibly return next year and give us another good run.
Match Trends
Edit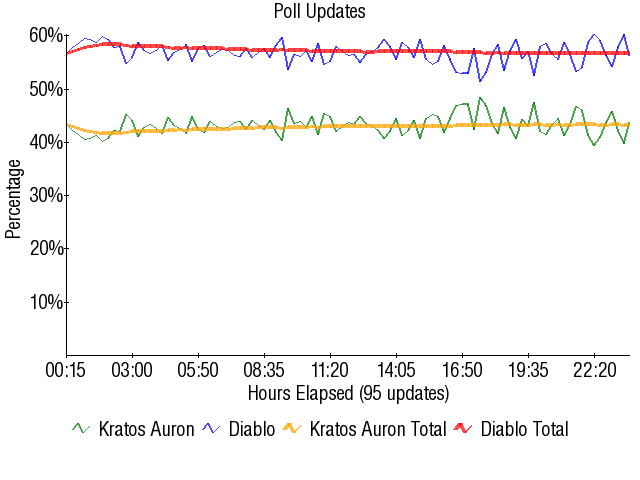 External Links
Edit
Ad blocker interference detected!
Wikia is a free-to-use site that makes money from advertising. We have a modified experience for viewers using ad blockers

Wikia is not accessible if you've made further modifications. Remove the custom ad blocker rule(s) and the page will load as expected.