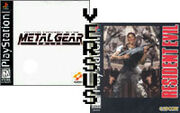 Thursday, April 22nd, 2004
Poll 1620
Division
Division 32-64
Match #
20
Match Date
Thursday, April 22nd, 2004
Vote difference
30,802
Oracle
Expectations
Metal Gear Solid - 69.42%
76 for - 0 against
GameFAQs
Prediction
Metal Gear Solid - 80.99%
(33,157 brackets)
Anyway, take a quick look at how truly even Metal Gear Solid and Final Fantasy Tactics were after their two respective matches. They had virtually the same prediction percentage in the first round. And while Final Fantasy Tactics saw both its vote total and the vote total of its respective poll score higher than that of Metal Gear Solid's poll, it was also going up against a considerably weaker opponent than Metal Gear Solid. In its day, Resident Evil was one of gaming's hottest items. But after Capcom literally beat the series into the ground time and time again, the series has turned into somewhat of a mockery every time a new game is released. Personally, I'm still waiting for Resident Evil 33 and a Third. And it won't take long either, just you watch. (Note: Ulti wrote this before the RE series was revitalized by Resident Evil 4 in 2005.)
And because Resident Evil as a series has become what it currently is, the original game in the series was a weak item coming into this contest. Its reward for Capcom being complete morons was a 13 seed in this contest, behind titles such as Dance Dance Revolution and NiGHTS into dreams... mind you, and a one way ticket out of the contest in the first round. It's sad what has happened to Resident Evil, but that's life. And correct me if I'm wrong, but wasn't Resident Evil Outbreak released just days before this poll? Sure didn't help much.
As for Metal Gear Solid, it has proven in the past that it is the most popular series on this site outside of Nintendo and Square (if you're counting Mega Man as Nintendo, that is), and it showed no signs of proving otherwise after this match. It quietly dispatched Resident Evil Cyan-style, and it was on to a second round showdown with one of the best strategy RPGs out there, Final Fantasy Tactics. And despite how close the two games looked on paper, few could see what would lie ahead between those two.
External Links
Edit
Ad blocker interference detected!
Wikia is a free-to-use site that makes money from advertising. We have a modified experience for viewers using ad blockers

Wikia is not accessible if you've made further modifications. Remove the custom ad blocker rule(s) and the page will load as expected.