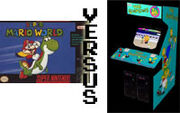 Tuesday, April 13th, 2004
Poll 1612
Division
Division 16
Match #
12
Match Date
Tuesday, April 13th, 2004
Vote difference
61,229
Oracle
Expectations
Super Mario World - 77.91%
83 for - 0 against
GameFAQs
Prediction
Super Mario World - 95.91%
(39,266 brackets)
If anyone thought Mario was somewhat weakened after the events of Summer 2002 Contest and Summer 2003 Contest, I hope they were at least put to rest after this match. The Simpsons arcade game is no slouch whatsoever, yet Mario World completely killed it. And not only that, but almost 96% of brackets picking Mario World to win is no joke whatsoever. This was the second in our four part series of watching some 16 bit heavy hitters destroy inferior 'Just happy to be here' opponents, and it isn't like I can say much here. The Simpsons never stood a chance, and this match is simply another example of outside mediums meaning squat in polls on our site.
But along those lines, don't think I'm bashing The Simpsons at all. Aside from being a good animated series, the arcade game was one of the most fun I've ever played. It's just that it never stood a chance to win this match, that's all. After all, Mario World had the full force of the enigma known as LUE behind it. It was also the launch title for what some believe to be the greatest system ever made, the SNES. What surprises me is how many people maintained that Mario World was in trouble against Sonic 2 after this match. The numbers being somewhat similar only tell part of the story. Mario World scored more than Sonic 2 in the first round, and it also held a stronger opponent to less votes. The game was over for Sonic 2 right then and there, but we're getting well ahead of ourselves. A winner is Super Mario World, and only a seven year old epileptic hermit with one functioning eye could have possibly thought otherwise.
External Links
Edit
Ad blocker interference detected!
Wikia is a free-to-use site that makes money from advertising. We have a modified experience for viewers using ad blockers

Wikia is not accessible if you've made further modifications. Remove the custom ad blocker rule(s) and the page will load as expected.