(5)Batman: Arkham Asylum vs (4)Team Fortress 2 2010
Talk

0
4,097pages on
this wiki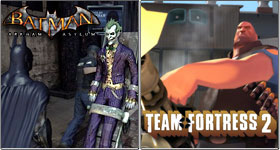 Round 2




Sunday, November 21, 2010
Poll 4134
Division
North
Match #
66
Match Date
Sunday, November 21, 2010
Vote difference
9,964
Oracle
Expectations
Batman: Arkham Asylum - 58.96%
96 for - 3 against
GameFAQs
Prediction
Batman: Arkham Asylum - 41.97%

Battle Contest
Predictions

Banked: 806
Batman: Arkham Asylum: 9802
Team Fortress 2: 6580
After Team Fortress 2's outstanding match against Fable -- one of the contest's best matches by any standard -- a lot of people became worried it could beat Batman. Batman was the guru favorite, but Team Fortress 2 was the higher seed and was generating a lot more buzz. There was also Batman being an unknown commodity, having only beaten Psychonauts.
Then the match started, things stayed even for a couple minutes and people thought we'd get another barnburner of a match. But after that, Batman just completely and thoroughly wrecked Team Fortress here. It was one of those matches where if you were arguing for the loser, you kind of felt like an idiot for thinking it had a chance. There was never any doubt here.
So naturally, fear started spreading around about a potential Batman > Fallout upset. Some of you guys need to chillax, seriously.
Match Trends
Edit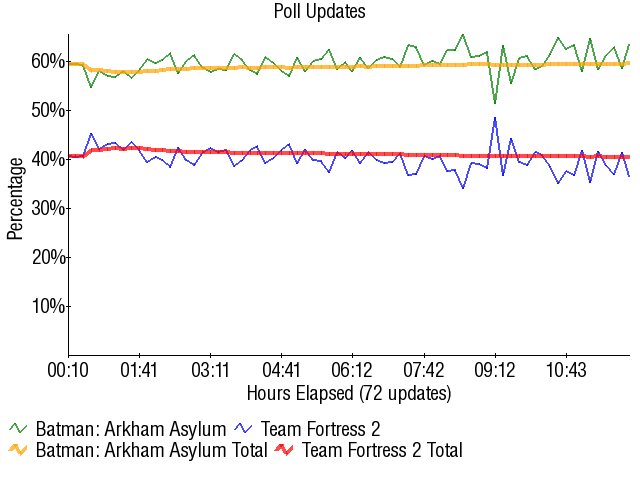 External Links
Edit
• Previous Match       • Next Match