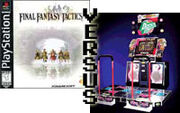 Wednesday, April 21st, 2004
Poll 1619
Division
Division 32-64
Match #
19
Match Date
Wednesday, April 21st, 2004
Vote difference
41,332
Oracle
Expectations
Final Fantasy Tactics - 74.43%
75 for - 0 against
GameFAQs
Prediction
Final Fantasy Tactics - 79.90%
(32,711 brackets)
Four straight polls featuring four straight victories by Square RPGs came to an end in this poll, as Final Fantasy Tactics managed a very 'meh' 76-24 victory over Dance Dance Revolution. At least we thought it was a ho-hum win at first. After all, DDR is nothing more than an arcade dancing game, right? Well, not exactly. Dance Dance Revolution, for all intents and purposes, is one of the single biggest arcade crazes in the world right now. Believe it or not, DDR has one hell of a dedicated fanbase, and though it wound up being one of the weakest games in the division, its 24% on Final Fantasy Tactics was no joke. I would also like to note that ChichiriMuyo was preaching this from day one, and thought it took two rounds for him to be proven right, he was. The people who picked Metal Gear Solid to take down Final Fantasy Tactics all thought FFT was done for once it gave up 24% to DDR, but were we all in for one of the biggest rides ever seen in this contest or what?
Lost in all of this is the fact that Final Fantasy Tactics is a lot closer to the numbered series than we thought (*mumbles something about having known this for years*), though it didn't exactly show in this match. The how and why some first round matches went down were predetermined in some cases, such as this poll. simply put, some matches were never going to be more than blowouts, and they served only to make comparisons for later contests.
Perfect example? Final Fantasy Tactics vs Metal Gear Solid.
External Links
Edit
Ad blocker interference detected!
Wikia is a free-to-use site that makes money from advertising. We have a modified experience for viewers using ad blockers

Wikia is not accessible if you've made further modifications. Remove the custom ad blocker rule(s) and the page will load as expected.