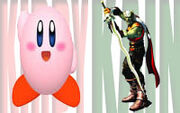 Thursday, August 19th, 2004
Poll 1736
Division
Midgar Division
Match #
19
Match Date
Thursday, August 19th, 2004
Vote difference
23,576
Oracle
Expectations
Kirby - 64.13%
69 for - 0 against
GameFAQs
Prediction
Kirby - 74.21%
(24,653 brackets)
That isn't Kain from Final Fantasy 4 up there, folks. That's Kain from the Legend of Kain series. Since Raziel stunk it up for two straight contests, CJayC threw Kain into the mix instead of taking out the Soul Reaver clan completely. Nominations may have also played a part in this, but honestly, who knows. The Soul Reaver clan on the whole has yet to do squat in these contests, and honestly, wouldn't Strider have more of a place here than either Kain or Raziel? Strider took down Raziel in 2002, after all.
Regardless, whether it be Kain or Raziel wasting a contest slot, it's still wasting a slot that could be used on a more deserving character. Kain almost got doubled up by Kirby in this match, and even though Kirby kicks ass, he isn't the type of character who is strong enough to be able to do this in most cases. What gets me is the popularity of the Legacy of Kain series as a whole. Kirby's low prediction percentage, as well as Kain getting 35% in the first place, would suggest that the series has its fair share of fans, and because of this we may unfortunately be stuck watching Kain and/or Raziel getting their asses handed to them every year. I've played Soul Reaver, and I honestly don't get what the big deal is. It came off to me as having the gameplay of a vampiric Zelda more than anything, but it wasn't nearly as well-done.
In the end, we had another ho-hum match in a contest that had been ho-hum as a whole. With the exception of two matches, virtually every match in the contest was like this. The winner was obvious, the match was boring to watch, and a shakeup was not only becoming a hope, but a necessity.
Match Trends
Edit
External Links
Edit
Ad blocker interference detected!
Wikia is a free-to-use site that makes money from advertising. We have a modified experience for viewers using ad blockers

Wikia is not accessible if you've made further modifications. Remove the custom ad blocker rule(s) and the page will load as expected.