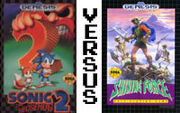 Monday, April 12th, 2004
Poll 1611
Division
Division 16
Match #
11
Match Date
Monday, April 12th, 2004
Vote difference
59,648
Oracle
Expectations
Sonic 2 - 74.05%
80 for - 3 against
GameFAQs
Prediction
Sonic 2 - 89.25%
(36,539 brackets)
This matchup set off a chain of four straight predetermined blowouts pitting big name games against games that most likely didn't even deserve to be in the contest, let alone have a chance to actually win a match. The first of the four blowouts was Sonic 2 vs Shining Force, and frankly, the only entertaining thing about this match was Popo making a topic asking why Sonic 2 was being put up against a made-up game. Yes, we tried that hard to get drama from this thing. Speaking of which, how did 10.75% of people think that Shining Force stood any chance whatsoever? A little-known Sega RPG stands no chance against Sega's mascot.
The odd thing is that Sonic 2 performed quite well in this match. So well in fact that a large contingency of Sonic fans on the board began gathering steam in their efforts to convince people that Sonic 2 could very well take down Super Mario World. After all, it's Sonic vs Mario, right? And 4 seeds always have issues with 5 seeds, yes?
HEH. What wound up happening in that match was something else entirely, but we'll get into that later.
External Links
Edit
Ad blocker interference detected!
Wikia is a free-to-use site that makes money from advertising. We have a modified experience for viewers using ad blockers

Wikia is not accessible if you've made further modifications. Remove the custom ad blocker rule(s) and the page will load as expected.