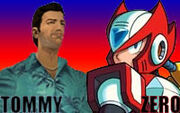 Wednesday, September 8th, 2004
Poll 1755
Division
20XX Division
Match #
38
Match Date
Wednesday, September 8th, 2004
Vote difference
19,100
Oracle
Expectations
Zero - 62.48%
57 for - 0 against
GameFAQs
Prediction
Zero - 31.57%
(10,488 brackets)
This was one of the single most boring matches in the contest by far. Everyone knew that Zero would win (on the board, at least), and Zero wound up doing almost as expected in the match. As such, I'll just touch on the couple of random other thiings about the match.
First and foremost, what the hell is up with this prediction percentage? 20XX was a division specifically designed to give us Mega Man vs Zero (and Zero vs Protoman, come to think of it), in case you couldn't notice. Did anyone see how well Zero did last year? Who was going to beat him? Protoman? Vercetti? MAX PAYNE? Of all the "bracket busters" we have seen, a prediction percentage this low for Zero is borderline stupid. The only thing I can think of is that Max Payne and Vercetti are characters that are well-known among mainstream gamers, whereas the Mega Man X series isn't exactly the most well-known series out there. When most people think Mega Man, they think the original series, not the 2.8 million spinoffs.
Secondly, take a quick look at all of Vercetti's matches. He is a horrible draw, which very well could have been a big part of the reason Zero only did as expected in the match. This is only speculation, but what else is there to talk about in such a boring match.
Finally, this match set up the blatantly obvious Mega Man vs Zero duel that would decide the true ruler of the 20XX division. Joy.
Match Trends
Edit
External Links
Edit
Ad blocker interference detected!
Wikia is a free-to-use site that makes money from advertising. We have a modified experience for viewers using ad blockers

Wikia is not accessible if you've made further modifications. Remove the custom ad blocker rule(s) and the page will load as expected.