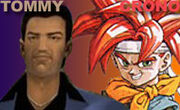 Monday, August 29th, 2005
Poll 2107
Round
Flood Division Semi Final
Match #
42
Match Date
Monday, August 29th, 2005
Vote difference
41,739
Oracle
Expectations
Crono - 70.27%
78 for - 0 against
GameFAQs
Prediction
Crono - 61.09%
(20,644 brackets)
After Master Chief pulled off the most boring comeback ever (even the comebacks in this division are boring), the Flood Division went back to being... the Flood Division.
Kefka/Vercetti was a classic, but the winner had to face Crono. Really, all of that drama was over one point. It was an exciting match and all, but what you see here is the end result of all the work Kefka and Vercetti put into beating the hell out of one another.
This match was little more than a test to see whether or not Crono was still an elite character capable of the numbers he had put up in the past, and it took all of five seconds to confirm that he was. Crono was over 80% at the beginning of the poll, and though he would eventually drop down to being just over 70%, Crono was only expected to get 67.5%. However, Vercetti had likely dropped between 2004 and 2005. How much had remained to be seen, but the only real assumption that could be drawn from this match is that Crono did exactly what was expected of him. Of course one could assume that Crono had lost a step if Vercetti had dropped a good amount, but we wouldn't know that until the stats were released and we saw where Vercetti would end up in comparison to last year.
And man, do I love easy writeups. I hate boring matches when they're actually going on, but it evens out come PCA time <_<
Match Trends
Edit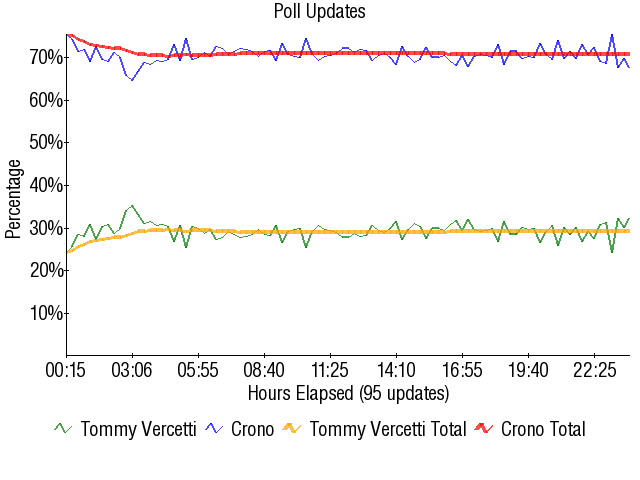 External Links
Edit
Ad blocker interference detected!
Wikia is a free-to-use site that makes money from advertising. We have a modified experience for viewers using ad blockers

Wikia is not accessible if you've made further modifications. Remove the custom ad blocker rule(s) and the page will load as expected.