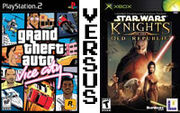 Monday, May 3rd, 2004
Tuesday, May 4th, 2004
Poll 1631
Division
Division 128
Match #
31
Match Date
Monday, May 3rd, 2004
Tuesday, May 4th, 2004
Notes
Two days match
with downtimes
Vote difference
18,491
Oracle
Expectations
Vice City - 63.01%
68 for - 0 against
GameFAQs
Prediction
Vice City - 79.11%
(32,388 brackets)
Don't let the 90000 votes allow you to think either of these games are all that strong. This match took place during the day of the board layout being changed, the poll went on for 48 hours. But that one tidbit aside, this was still a good match, if for no other reason then to set up some serious second round hype.
KOTOR has done what no other game could do: Shake openly stated that a game, any game, is better than Grim Fandango. There are also a ton of KOTOR fans of the board who went on and on about how great the game was, and how it would be a threat in this match. As an aside, is Xbox hate starting to come to an end? KOTOR, Ninja Gaiden, Halo, and EA's support of Xbox Live seem to be allowing the system to gain some serious boom in the market.
But anyway, despite all of the hype for KOTOR, Vice City managed to put up over 60% on it. Apparently, selling 7 million copies of yourself is no joke. This victory immediately allowed Vice City to gain serious steam from the board in this contest, and the debate for Vice City's chances to make the sweet sixteen were on. After all, SSBM was a game that could lose any match between the first round and the Final Four, and since we hadn't seen it before Vice City's matchup, there was no guarantee of how well SSBM would do. Hell, Metal Gear Solid 2 had a serious chance of taking down SSBM. Another interesting debate that stemmed from this match was which game was stronger, Metal Gear Solid or Metal Gear Solid 2? I wound up being very happy at the results of that little situation, but more on that later. For now, all that we needed to worry about was how Vice City was suddenly a strong oponent for whoever it would go up against in the second round.
...or was it? In 48 hours, this entire poll managed 90000 votes. We've had 24 hour polls in the past that have horribly outscored this one, so Vice City wasn't locked into the sweet sixteen just yet. It would have to earn the spot.
Match Trends
Edit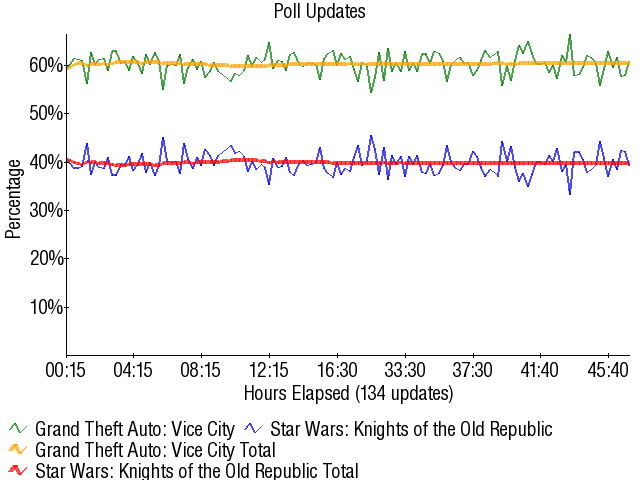 External Links
Edit
Ad blocker interference detected!
Wikia is a free-to-use site that makes money from advertising. We have a modified experience for viewers using ad blockers

Wikia is not accessible if you've made further modifications. Remove the custom ad blocker rule(s) and the page will load as expected.