(7)Paper Mario: The Thousand-Year Door vs (10)Gears of War 2010
Talk

0
4,099pages on
this wiki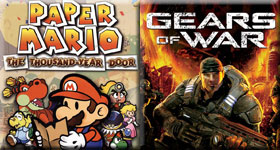 Round 1



Saturday, November 20, 2010
Poll 4131
Division
Northwest
Match #
63
Match Date
Saturday, November 20, 2010
Vote difference
6,934
Oracle
Expectations
Paper Mario: The Thousand-Year Door - 58.89%
99 for - 3 against
GameFAQs
Prediction
Paper Mario: The Thousand-Year Door - 29.33%

Battle Contest
Predictions

Banked: 815
Paper Mario: The Thousand-Year Door: 7740
Gears of War: 14762
For whatever reason, casuals were lost about this match. I even had a couple very high-ranking mods IM me to ask for help on where to go for the battle challenge, so I'm glad Paper Mario TYD won after I spent all day telling people to go with it. Gears of War pulling the upset might have gotten me banned or something <_<
Every contest has a match or two where the experts just murder the casuals, and this was one such match in our Game of the Decade contest. Gears of War was a casual shooter that fell off the map fast in popularity, and casual shooters rarely have strength here. Not only that, it was up against FREAKING MARIO and DAT TOP OPTION on JRPGFAQs. CRUISE CONTROL FOR AWESOME AND ET CETERA.
I can sort of understand why casuals would pick Gears 1 to win this in their brackets before the contest started, but after Gears 2 just got completely annihilated at the hands of Portal and Paper Mario similarly destroyed Katamari Damacy, there should not have been such a massive discrepancy in battle brackets. Losing a big streak to Marvel vs. Capcom 2's upset was one thing. That's a legitimate upset. Losing a big streak to TYD in a match it was never going to lose is on you. It wasn't some weird fluke win, either, as most people in the oracle were dead-on in picking this.
And so, it must be invoked once again: HAW HAW CASUALS.
Match Trends
Edit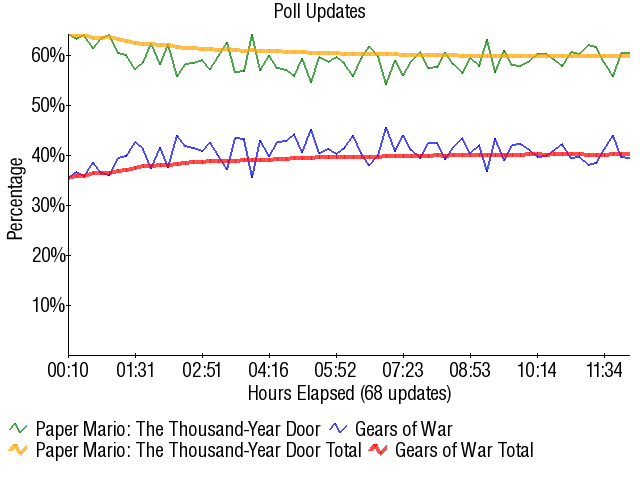 External Links
Edit
• Previous Match       • Next Match