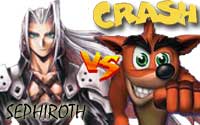 Saturday, August 17th, 2002
Poll 987
Division
West Division
Match #
48
Match Date
Saturday, August 17th, 2002
Vote difference
41,721
GameFAQs
Prediction
Sephiroth - 77.02%
(12,911 brackets)
Everyone already knew that Sephiroth was going to kill Crash in this match, and trying to explain why in depth is pointless. Most, if not all platformers not named Mario or Sonic have next to no popularity on GameFAQs, even back in 2002. When watching this match, one could easily get the seedings backwards. Remember, Crash was the 2 seed, not Sephiroth. Another thing that gets me is the low prediction percentage. How anyone could fathom Ulala, Crash Bandicoot, or Gabe Logan having a chance at taking down the main villain from this site's most popular game is about as perplexing as it gets. I can understand some people being odd, but almost 25% of brackets?
The only thing left to do after this match was to wait for the epic Megaroth duel. Through two rounds, there was absolutely no indication whatsoever of how that match would go, and everyone knew it. All we could do was watch and wait.
Ad blocker interference detected!
Wikia is a free-to-use site that makes money from advertising. We have a modified experience for viewers using ad blockers

Wikia is not accessible if you've made further modifications. Remove the custom ad blocker rule(s) and the page will load as expected.