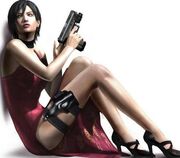 Ada Wong is a mysterious female protagonist of the Resident Evil series.
Ada participated in the 2006 Character Battle, where she defeated Jade before being blown out by Samus. Fortunately she still ended up looking somewhat decent (52nd overall) in the x-stats, due to Samus' surprisingly easy defeat of Snake in the Finals. In 2007 Ada was given an excellent opportunity thanks to good bracket placement, which she made the most of in the first round, easily finishing ahead of Balthier. But in round two she was embarrassed by being narrowly upset by Amaterasu, who advanced to R3 behind Dante. Probably this was for the best, since she would have looked even worse in the next round, where Leon was waiting and ready to SFF her pretty hard.
See Also
Edit
External Links
Edit
Ad blocker interference detected!
Wikia is a free-to-use site that makes money from advertising. We have a modified experience for viewers using ad blockers

Wikia is not accessible if you've made further modifications. Remove the custom ad blocker rule(s) and the page will load as expected.