A PotDer who also posts often on Board 8; is known as agesboy, Alluvial, or Nick. Was a lurker on all social boards until late 2006, when he became an avid poster on PotD.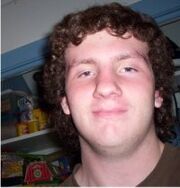 While agesboy lurked PotD for years, he didn't start posting until mid-2006 and didn't start being very active until late 2006. Since then, when he was proud to have a hundred posts, he's become extremely active, with post counts topping 1200 any day of the week. He never became known in PotD until he started making topics about a girl he knew his entire life who ended up ditching him for her cousin, but after that, he was fairly well known, even winning the "Best PotDer starting with the Letter A" contest in August 2007. But of course nobody wants to hear about PotD...
Probably the entire reason agesboy started lurking board 8 in the first place was because of a chance meeting on a deserted board, namely Brad Stallion in Sex Olympics. There, entirely by luck, he met GuessMyUserName and recognized the Board 8-ness within him. With agesboy and GMUN taking turns posting every few days in that thread, they became friends, even though there was animosity between the two social boards. Even then, he lurked, only posting in GMUN's "DENNIS" topics regularly. The change from lurkerdom to lurkerdom and some posting came when the Choco had an event in his PotD Lottery to make a thread on Board 8, where more posts = more points. Using his knowledge of Board 8 fads, he created a topic that stands to this day; "A PotDer talks with the B8ers *Choco edition". He got an assload of points for it, and even though he could have left the thread to die, he kept bumping it for some reason. Partly it was curiosity about Board 8, partly keeping it alive because of MoogleKupo's hate for PotD and himself, but mostly because he liked the board once he looked past all the contests... since then, he's still mostly unknown, but he posts fairly often and at least a few users recognize him.
Nowadays, he is a very regular poster on the new Board Eight 3 offshoot board, being one of the most active posters there.
AIM: agesboy Xfire: agesboy email that he never checks: ages_boy@yahoo.com
Ad blocker interference detected!
Wikia is a free-to-use site that makes money from advertising. We have a modified experience for viewers using ad blockers

Wikia is not accessible if you've made further modifications. Remove the custom ad blocker rule(s) and the page will load as expected.