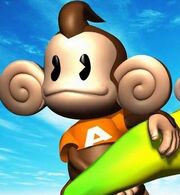 AiAi is the main monkey from the Super Monkey Ball series.
He somehow made the Contest in 2003, where he was crushed by Link in one of the biggest blowouts the site had ever seen. Nintendo SFF aside, that made AiAi one of the weakest characters in History; only 8 characters have ever finished worse in the X-stats. That's bad. Really, really, bad.
Notable Matches
Edit
External Links
Edit
Ad blocker interference detected!
Wikia is a free-to-use site that makes money from advertising. We have a modified experience for viewers using ad blockers

Wikia is not accessible if you've made further modifications. Remove the custom ad blocker rule(s) and the page will load as expected.