B8 Birthdays
Talk

1
4,099pages on
this wiki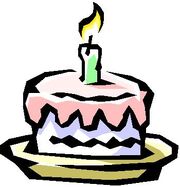 This was named Article of the Week in February of 2008.
The Birthdays of (pretty much) everyone to ever use Board 8 are on display here! If it's someone's special day, be sure to wish them a Happy Birthday. And if you don't see yourself listed, add yourself!
A thank you to Vlado for keeping track of these dates for many years now.
Some Fun Stats
Edit
These numbers were calculated by Carvey and are accurate as of 12/3/08.
Average Age of B8: 20.76
Oldest B8er: pnx11 - May 29, 1972
Youngest B8er: espio4000 - November 28, 1995
Most popular B8 Birthday: August 10 - 8 people
Every Board 8er's Birthday
Edit
February
Edit
JONALEON1 - June 1, 1992
Relax_Guy - June 2, 1987
freac - June 2, 1989
Bigjimdx - June 3, 1978
Random1 - June 3, 1987
cyrax dioxide - June 3, 1989
Red Shifter - June 3, 19??
ActJef1077 - June 4, 1982
SonicFanFuentes - June 4, 1990
LokiGamer - June 5, 1984
Tweeeked - June 5, 1987
Evet - June 6, 1988
FinalFantasyTactics - June 6, 1992
lettuce Kefka - June 7, 1987
TheCruelAngel - June 7, 1987
Seifer Leonheart - June 8, 1976
BrokenEchelon - June 8, 1990
brizobst - June 9, 1980
Demon HunterX - June 9, 1986
Janus5000 - June 9, 1990
riemedev - June 10, 1989
Some_Character - June 10, 1993
Agent M - June 11, 1983
Minipoooot - June 12, 1987
Blitztrugg - June 12, 1990
Shadow Ryoko - June 14, 1989
Dranze - June 14, 1990
slash05 - June 15, 1987
ExThaNemesis - June 15, 1988
ravetrade - June 15, 1988
Smurf - June 16, 1987
Valientherox - June 16, 1987
GrayFoX16 - June 16, 1988
GammA07 - June 16, 1993
SpikeDragon - June 16, 1993
Riku the Slayer - June 17, 1990
GTM - June 18, 1989
Meteorush - June 18, 1990
abbasgr8 - June 18, 1990
LiquidAssault - June 19, 1991
dinobot19 - June 19, 1992
Kavatar - June 20, 1983
The Raven 2 - June 20, 1985
masterchief3404 - June 20, 1990
PinkPuttyKat - June 21, 1982
aga - June 21, 1988
Edmond Tan - June 21, 1990
Ramona_Flowers - June 21, 1991
charmander6000 - June 22, 1990
DigitalIncision - June 23, 1990
Mr3790 - June 23, 1994
Nevest - June 24, 1981
DW4ever - June 24, 1985
eli_loves_ddr - June 24, 1989
MegatokyoEd - June 24, 1989
_Yonex_ - June 24, 1992
Meow1000 - June 25, 1986
Kyle Bowen - June 26, 1983
Last Rites - June 26, 1987
hellagood16 - June 26, 1988
wst - June 26, 1989
Vengeful_KBM - June 26, 1991
Ed Bellis - June 27, 1985
ultraseamus - June 27, 1986
Hard Boiled Guts - June 28, 1988
stingers135 - June 28, 1993
WalrusJump - June 28, 1993
herooftime9 - June 29, 1990
The_Ocelot - June 29, 1990
ChiKenMc3j - June 30, 1986
Paratroopa1 - June 30, 1988
Zea_Destroyer - June 30, 1990
playstationman - June 30, 1991
LiselTestify - June 30, 19??
TheHatian - June 30th 1991
(PAVAN KUMAR KULKANI)- June 1, 1986
September
Edit
November
Edit
Siddaram N.Korpalli - November 1, 1987
Luigi771 - November 1, 1991
Mortal Sky - November 1, 1993
__Mega64__ - November 1, 19??
Nightmare 45 - November 2, 1990
Eddy31192 - November 3, 1992
piccolo1104 - November 4, 1985
Abdel_Adrian1 - November 4, 1988
metroid2134 - November 4, 1989
LagunaticHigh - November 4, 1989
AmazingKirby - November 5, 1991
Crystal King - November 6, 1986
Dekar TKB - November 6, 1987
dspard56 - November 6, 1987
Blakestergator - November 6, 1988
SonikkuGBA - November 6, 1989
PhoenixPunch - November 6, 1992
DaveTheUseless - November 6, 19??
Skularis - November 7, 1982 (July 11th?)
Ganondorf - November 7, 1986
Phase - November 7, 1986
Whit3_Rabb1t - November 7, 1991
ad00 - November 8, 1981
SenoritaCactaur - November 8, 1986
ChocoTuar - November 9, 1987
Cypher 2 - November 9, 1988
LordoftheMorons - November 9, 1990
Enohp - November 9, 1990
GrandFool - November 9, 1991
3rdTimesDeCharm - November 10, 1986
ScorpioVS - November 11, 1987
DragonKing99999 - November 11, 1992
WildChocobo - November 12, 1987
love0vs0hate - November 13, 1988
BenuNeko - November 14, 1985
C_Joni - November 15, 1987
Dancing Penguin - November 15, 1988
ToxicBiscuit - November 15, 1990
Silverflame - November 16, 1988
Saiyan Pezhead - November 16, 19??
My Immortal - November 17, 1987
Sephirot1 Returns - November 18, 1986
Lady Ashe - November 18, 1990
Zacek - November 19, 1979
Alex Shelley - November 19, 1986
Osiris11 - November 19, 1989
potatoesaretubers - November 20, 1984
Chumpmoney - November 20, 1987
hobbsees38 - November 20, 1987
oas316 - November 21, 1986
Princess Anri - November 21, 1986
The Champ999 - November 21, 1990
leafer 21 - November 22, 1987
xtremegamr457 - November 23, 1987
Black_Hydras - November 23, 1988
cheekyboys - November 24, 1982
Mewtwo 3d - November 24, 1984
stryke123 - November 24, 1986
Mr Lasastryke - November 24, 1987
chocoboslayer - November 24, 1987
Talkin Tate - November 24, 1991
gballer - November 25, 1982
mariokirbylink - November 26, 1991
Gaddswell - November 27, 1989
MoogleKupo141 - November 27, 1990
ssjkerry4 - November 27, 1991
ShadowTheHHFan - November 27, 1992
GANON1025 - November 28, 1987
Tovak - November 28, 1988
Iubaris - November 28, 1991
December
Edit