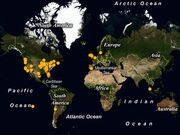 The Board 8 Location List is... just what it sounds like! The original list was created by Enohp in early 2007, and nintendogirl put up a new topic to get it updated in late 2008. Superangelo128 brought it back up to date in 2009.
See Also
Edit
Board 8's Locations
Edit
North America:
United States: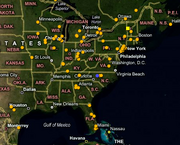 Canada:
Europe:
South America:
Asia:
Oceania:
Africa:
2007 count:

America: 80 (75.47%)
Canada: 17 (16.04%)
Europe: 5 (4.72%)
Asia: 2 (1.89%)
Oceania: 1 (0.94%)
South America: 1 (0.94%)
Africa: 0 (0%)
Why so few non-North Americans?
Edit
Firstly, it's important to note that according to the latest (11/15/2005) poll on the subject, 79.37% of all GameFAQs users are from North America. Even so, this listing is currently 90.43% North American. What's going on with that extra 10%?
Ever since the original Contest in 2002, no one outside of NA has been eligible to win prizes for their bracket. With no cash incentive, it makes sense that fewer international gamers would put effort into their bracket, making them less likely to follow the Contest enough to vist the boards and become B8 regulars.
Thanks to office pools revolving around the NCAA Men's Basketball tournament (whose format CJay based the Summer Contest on originally), Americans have become conditioned to filling out prediction brackets, even if they're doing so just for fun. Once a bracket is in, the user has more reason to track the results, which is all the more reason to visit B8 on a regular basis.
Otherwise, international gamers must just be shy about admitting they're not from North America. For some reason.
Ad blocker interference detected!
Wikia is a free-to-use site that makes money from advertising. We have a modified experience for viewers using ad blockers

Wikia is not accessible if you've made further modifications. Remove the custom ad blocker rule(s) and the page will load as expected.