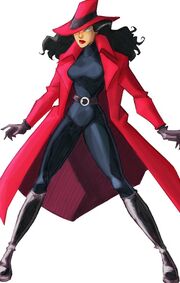 Carmen Sandiego is the main antagonist of a series of geography games released in the 1980s and 1990s. In games such as "Where in the World is Carmen Sandiego?" and "Where in the USA is Carmen Sandiego?" the player would have to follow Carmen and her cronies as they attempted to steal historical relics such as the Declaration of Independence, the crown jewel of England, or the Golden Gate Bridge.
There was also a TV show in the 1990's based on the games.
In the Summer 2006 Contest, Carmen Sandiego was an 8 seed in the Triforce Division. She faced Zelda in the first round, and lost 86-14 percent.
Notable Matches
Edit
See Also
Edit
External Links
Edit
Ad blocker interference detected!
Wikia is a free-to-use site that makes money from advertising. We have a modified experience for viewers using ad blockers

Wikia is not accessible if you've made further modifications. Remove the custom ad blocker rule(s) and the page will load as expected.