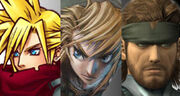 Battle Royale
Friday, November 17th, 2006
Poll 2565
Round
Battle Royale Day 4
Match #
67
Match Date
Friday, November 17th, 2006
Oracle
Expectations
Link - 44.34%
Cloud - 36.24%
Snake - 19.17%
GameFAQs
Prediction
Solid Snake booted out -
8.52% (3,633 brackets)
The final two days of the BR were rather boring and predictable, but then again nothing short of Link losing could have possibly topped Snake > Sephiroth in Day 3.
For the first time, Link's percentage didn't go up like crazy, though 2% given the setting is still pretty nuts. Sephiroth going down obviously meant Cloud would go up like a bullet, and Snake, alone like always, almost managed to break 20% on the combined force of FF7 and Zelda. That's damn impressive, and it's worth noting that Cloud was in last place at the beginning of this poll. It took him 15 minutes to pull ahead of Snake for good.
Even though Snake didn't win the whole thing or the BR, this was his contest and his alone, and he might have more boosts in the works if MGS4 and SSBB are what we're hyping them up to be.
Check out the final stretch of this contest:
5 days of BR, and Snake was in four of these matches
Not only did Snake ditch the monkey of never winning over another Noble Nine member, but he went through over half of them in one week. The guy went through Mega Man, Sonic, Samus, Mario and Sephiroth before Link and Cloud at the same time finally offed him. The only run better than this was Division 128 in the games contest, which was tainted by mass cheating anyway.
Board 8 did a good thing in voting Snake the #1 character in HE's latest Top 100 project, because the guy has been looooooong overdue. Long live Snake!
Match Trends
Edit
External Links
Edit
Ad blocker interference detected!
Wikia is a free-to-use site that makes money from advertising. We have a modified experience for viewers using ad blockers

Wikia is not accessible if you've made further modifications. Remove the custom ad blocker rule(s) and the page will load as expected.