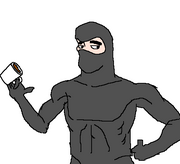 Coffee Ninja used to post as Kayen Cynic, until he got axed during the 25,000,000th topic fiasco. His claim to fame is getting the 24,999,999 post during that time. His new account was given to him by Not_Dave
He is the one responsible for Pats_Dynasty getting banned for posting LUEshi on Board 8. Pats had no clue at the time what it was and posted it as he was told. A cruel joke amongst friends to say the least.
Coffee Ninja won the first season of Survivor on Board 8 hosted by Charton. This is the first board contest he has won. He beat HanOfTheNekos in the final matchup by one vote.
Pictures Of Coffee Ninja
Edit
See Also
Edit
Ad blocker interference detected!
Wikia is a free-to-use site that makes money from advertising. We have a modified experience for viewers using ad blockers

Wikia is not accessible if you've made further modifications. Remove the custom ad blocker rule(s) and the page will load as expected.