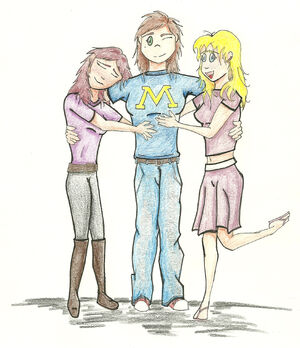 Crimson has been posting on Board 8 since the summer of 2003, when she excitedly made it onto the contest leader board. Tragically however, she picked KOS-MOS to win the contest, and her fall from grace was swift and decisive.
Crimson is a rabid Michigan Wolverines and Lions fan, which isn't saying much since there are at last count about 1000 people from Michigan inhabiting Board 8.
Crimson recently graduated from the University of Michigan, and is Board 8's resident architect. And as Barney Stinson would say, "Mo' buildings, mo' problems."
Crimson is the most active lesbian (awe yeah) on Board 8, and has been known to hit on the other lovely lady users. But it's all in good fun. Crimson lost some of her "it's a girl!" popularity after coming out on the board, but is now just one of the bros.
Despite popular assumption, Crimson does not have red hair.
User Groups
Edit
Ad blocker interference detected!
Wikia is a free-to-use site that makes money from advertising. We have a modified experience for viewers using ad blockers

Wikia is not accessible if you've made further modifications. Remove the custom ad blocker rule(s) and the page will load as expected.