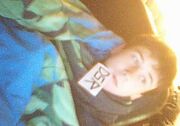 DSR was an otherwise unknown member of Board 8 who rose to prominence in 2008 when he purchased Mega Man 9 for Ngamer, eventually becoming the board's second most popular poster. However, he soon slipped back to 521st most popular after not purchasing World of Goo for Ng despite promising to do so.
DSR is currently running a side project in which he creates name logos for the users that post in the topic. It is an advanced version of the classic "Post 2 or 3 colors and I will make you a logo)" because DSR is much better with MSPaint.
ACCOUNT LIST (15):
Banned (3):
Closed (2):
lovenerds - Closed due to an account bet DSR had no intention of winning.
DSRage_Revived - Closed for no apparent reason.
Unknown Status (5):
Wurple - Lent to MYC and DSR forgets the login info.
Cascoon - See Wurmple.
Dustox - DSR forgets the login info.
LexaGnimalf - DSR forgets the login info; Used it back in the day to run a Pokemon/User contest.
NeverShakeABaby - DSR left the password/email combo on tranny town and someone actually stole the account.
Active (5):
DSiRage - Current main.
WiiRage - Alt
PS3Rage - Alt
Osmachenko - Used before the DSi/Wii/PS3 combo.
Rocktillery - Once was known as a separate user altogether.
See Also
Edit
Ad blocker interference detected!
Wikia is a free-to-use site that makes money from advertising. We have a modified experience for viewers using ad blockers

Wikia is not accessible if you've made further modifications. Remove the custom ad blocker rule(s) and the page will load as expected.